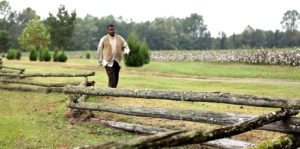 Box Brown: A Box Marked Freedom, directed by Rob Underhill and written by Underhill, Allen Gies, and Mike Wiley, is based on Wiley's one-man show, One Noble Journey. In turn, Wiley's play is based on the true life of Henry "Box" Brown, an enslaved person born in Virginia in 1815. How much of the story is made up versus actual events? Does it even matter so long as the drama is engaging and it all works by the end?
Henry (Wiley) was raised as a slave and soon became a prized possession by the men cruel enough to own humans. A chance encounter with a white magician allows Henry to develop skills that become quite useful later in his life. After one white master dies, Henry is sent to that man's brother's tobacco farm. There he meets his soon-to-be wife, Nancy (Brandi Nicole Feemster), as it's love at first sight for both of them. However, a******s always play dirty, and despite Henry working hard to pay for his wife, her master sells Nancy. Heartbroken, Henry must figure out a way to get to reunite with his wife and children and get all of them to freedom.
Box Brown: A Box Marked Freedom looks like it was filmed at a living history attraction a la Williamsburg, Virginia. That is to say, the costumes appear era accurate, even if they're slightly too clean at times. The various houses and buildings featured transport audiences to the 1840s when most of the title takes place. It's impressive that Underhill so ably captures the timeframe on such a slim budget.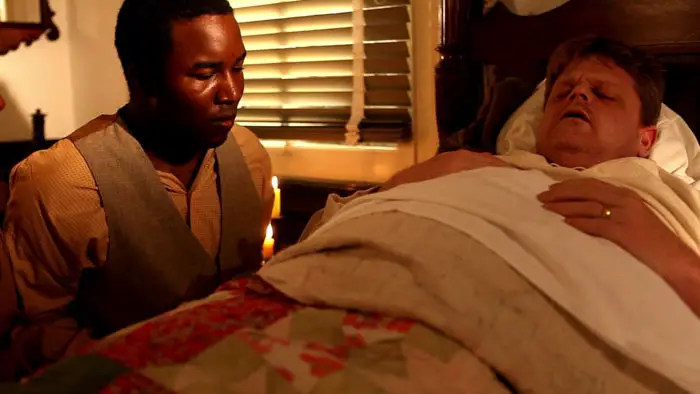 "…despite Henry working hard to pay for his wife, her master sells Nancy."
Happily, the screenplay is just as strong as the production and art design. Utilizing a one-man show as a framing mechanism is genius. This allows Wiley to take center stage while the plot can easily jump through time without feeling rushed or awkward. By expressly using the stage at times, the film also eschews a pitfall that many stage adaptations are prey to: at no point does this feel like a filmed play. Underhill utilizes several locations, and a solemn trek on a barren path is pure cinema; it couldn't be replicated in theater, no matter the budget.
Considering Box Brown: A Box Marked Freedom is based on his material, it stands to reason that Wiley should have the titular character down pat. He is exceptional here. As the narrator of the play, he's cocksure. As the lovestruck man, Wiley is sweet and unsure. As the man who must be a slave, he's understandably reserved but respectful. That's a lot to ask of any one actor, but Wiley nails the part for all 92 minutes.
He's surrounded by an ensemble who are just as capable. Feemster is lovely, and their chemistry sells the romance from the two's first scene together. W. Scott Parker III plays Dr. Smith, who gets a line about being a doctor and not harming others that work more than expected. Even the smaller parts are convincingly played.
Box Brown: A Box Marked Freedom is a riveting triumph on all fronts. The screenplay keeps the momentum going due to creative structuring. The direction makes audiences believe they are back in the 1800s. The acting sells every emotional moment with ease.
For more information, visit the Box Brown: A Box Marked Freedom Film Freeway page.