Boo! from Director Luke Jaden reminds us there's nothing scarier than family. It starts with an innocuous prank note, popular with kids to share with their friends at Halloween.
We are introduced to the concept of the "Boo!" at the opening of the film. In Detroit (scary already), Halloween 1980, a man carries the mysterious chain letter. In 2018 parlance it's like a FaceBook post declaring "bad luck if you don't share this post on your wall."  The unnamed character disappears into his house, terrified. Once inside he is caught up in a furious cataclysm of light and sound, culminating in his apparent off-screen suicide.
Back in present day, the same note drops in on a family breakfast with a ringing doorbell and a mystery package on the stoop. The Father, James (Rob Zabrecky) is a puckered, old school, religious "man of the house." He quotes the scriptures and rules his castle. Mom, Elyse (Jill Marie Jones) is stressed and trying to keep everyone from each others throats. Teen daughter Morgan (Aurora Perrineau) is a rebel who has had enough of her parent's s**t, and their young son Caleb (Jaden Piner) seems to be enduring the rest of them patiently.
When they open the note a strange transformation takes Caleb, and he recites it without looking at it.
The air is cool, the season is Fall
Soon Halloween will come to all,
Terror and horror, spooks galore
Tricky witches are at your door.
The spooks are looking for things to do
In fact, one bought this boo to you.
Excitement comes and ghouls like you
Copy this note and make it through.
Boo! delves as much into family dynamics as it does supernatural horror. There is some "father knows best" tension between James and Morgan as he tries to command his family with an iron fist. He is unnecessarily acerbic with Caleb, who is never difficult, and he treats his wife disrespectfully. 
There's an additional tension to the family: James is white, his wife is African American, and the kids are bi-racial. Jaden meticulously avoids any racially charged issues, but The Great Santini-esque domineering white father is particularly grating in this situation. 
The stunning Jill Marie Jones (who was wonderful in Ash V Evil Dead) gives us a mother who gets her much needed "me" time by drinking and smoking at a bar where her husband is not around.  Morgan, the teenage terror, sneaks out to have sex with her boyfriend in his car while hapless Caleb is left home to square off with the forces of evil while Dad is at bible study or some damn fool thing.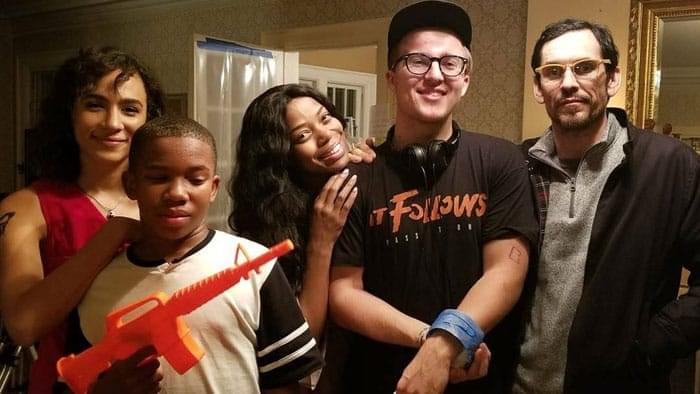 "…there's nothing scarier than family…"
Evil means to terrorize this family for not passing along the "boo!" and soon the household spirals down, each into his or her own personal hell, unable to tell whether any of it's real or just horrifying hallucinations.
Jaden's directing choices in this film are impressive, including the stellar casting and his choice of cinematographer, Nicholas Wiesnet.  Weisnet has painted the film in light. His work is reminiscent of Kubrick in framing, color, movement, and lighting. It simply doesn't get better. The overall ambience and texture of the film are pure joy.
At the time of the Boo! world premiere at the 2018 Brooklyn Horror Film Festival, Jaden was 22 years of age, and had already directed 8 films. Most 22 year olds (including myself, dark ages ago) wouldn't have the presence of mind to point at the sky if you asked what's up. Anyone would be right to be proud of this film, but given his age, his accomplishment here will leave you gobsmacked.
Despite the amazing atmospherics and acting, the plot does falls apart in the third act, swept away by the visions of ghastly dread the family is subjected to. That is easily forgiven, however, because the vibe is all-engrossing. It's fun to imagine a 3rd act that pulled together and paid off all the threads, but what we get is still high quality creepy fun.
Boo! (2018) Directed by Luke Jaden. Written by Luke Jaden, Diane Michelle. Starring Aurora Perrineau, Jaden Piner, Jill Marie Jones.
8 out of 10