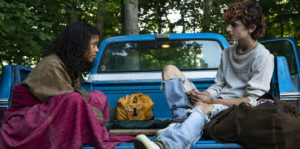 Kathryn Bigelow's 1987 Near Dark is a little gem of a vampire flick that I'd venture to say not nearly enough people have seen. Director Luca Guadagnino's Bones and All, with a screenplay by David Kajganich, based on a novel of the same name by Camille DeAngelis, has some similarities. They both take place in the 1980s, but more importantly, they're about characters who are undergoing a major transformation that makes them feel isolated in the "normal" world. That's when they meet some new guiding characters who take them under their wing to show what their new supernatural way of living is all about.
Bones and All follows eighteen-year-old Maren (Taylor Russell), who seems like a typical teenage girl at first. But then, at a sleepover, during a moment of silence after a friendly conversation, she shockingly bites off another girl's finger without warning. Maren books it all the way home, covered in blood, where her dad (André Holland) calmly tells her they have three minutes to pack and flee before the police arrive. He's clearly been through this scenario with her before. Shortly after, her father decides it's best to leave her alone without saying goodbye. He only leaves a tape recording with his memories and thoughts on her life up until now.
Maren listens to her father's recording throughout the film, trying to glean any wisdom she can from it. It seems to bring her some comfort in a world where she's suddenly all alone. Maren then undertakes a road trip to find her mother, who she's never known. On this quest, she comes across an unusual man named Sully (Mark Rylance). Sully says he can smell her from far away, and Maren discovers they're the same. They both are flesh-eaters. He's willing to take her under his wing, even though he warns her that it's not safe to be around their kind. They eat a dying old lady together, but Maren gets creeped out, so she takes off.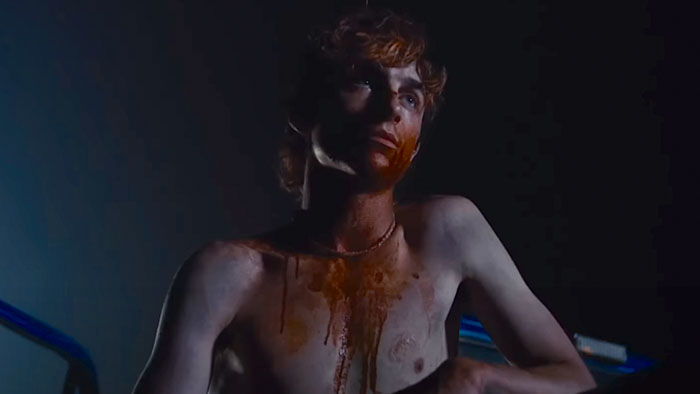 "…flesh-eaters…embark on a romantic and beautiful thousand-mile journey across the heartland of America in order to find Maren's mother."
Maren isn't alone for too long though, because she comes across a drifter named Lee (Timothée Chalamet). He's an eater, one who she quickly connects with due to his feistiness and twisted sense of justice. They then embark on a romantic and beautiful thousand-mile journey across the heartland of America in order to find Maren's mother.
The cinematography by Arseni Khachaturan is absolutely stunning throughout Bones and All. The "O' beautiful for spacious skies, for amber waves of grain" looks quite majestic while Lee and Maren trek through the rural United States. The score by Trent Reznor and Atticus Ross is simple, subtle, and hauntingly good.
The cast of Bones and All is phenomenal, with every actor playing their role to perfection. Loneliness and the longing for companionship emanates from the screen from the magnificent flesh-eating trio of Russell, Chalamet, and Rylance. Each of them brings their unique and highly effective styles to their roles. The story moves along a bit slowly at times, but the superb acting carries the movie to a compelling place regardless.
The shame-filled vagabond and lonely nature of flesh-eating portrayed in Bones and All is a thinly veiled allegory for addiction. Lee and Maren are the new Sid and Nancy, with another complicated love story for the ages.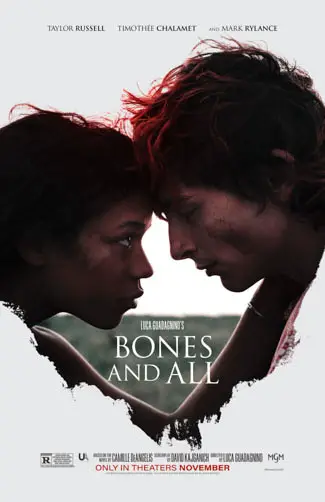 "…the superb acting carries the movie..."