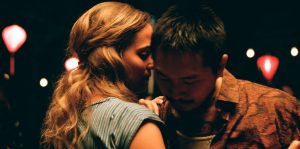 Not only is the system broken for Korean adoptees, but life is equally broken in Justin Chon's Blue Bayou. Antonio LeBlanc (Justin Chon) can't seem to catch a break—former felon, broken home, and an outsider in his hometown of New Orleans. The only happiness he has in life is his very pregnant wife, Kathy (Alicia Vikander), and his adorable stepdaughter Jessie (Sydney Kowalske).
Our story takes place just days before Kathy is to give birth. Jessie insists on taking the day off from school with Antonio because she's afraid he'll leave her for her new sister, just as her cop father Ace (Mark O'Brien) did when she was young.
Trouble brews as Ace insists on joint custody with Jessie, the daughter he barely knows. Having Ace's back, his partner Denny (Emory Cohen) instigates an altercation with Antonio that not only lands him in jail but in the custody of ICE and at risk of deportation. You see, Antonio is a Korean adoptee, and his adoptive parents neglected to complete the adoption process when he arrived as a child. Thus he doesn't have legitimate legal residency status.
Now Antonio has to fight to stay in the United States and keep his family together. As the film progresses, the deck is increasingly stacked against him. First, he has to return to his life of crime to pay for the expensive immigration lawyer, and is outed by Ace to Kathy. Next, Antonio's lawyer Barry (Vondie Curtis-Hall), tells him that his criminal background hurts his chances of staying in the country. Antonio needs friends and family to vouch for him, including his estranged mother, Susanne (Susan McPhail). Then there's little Jessie, who slowly backs away from Antonio because she's afraid, she'll never see him again.
"Now Antonio has to fight to stay in the United States and keep his family together."
Blue Bayou falls squarely in the tragedy genre and becomes an exercise in an escalation of misfortune. Writer/director Chon starts with hopes set high as the bond between Antonio and Jessie is formed in the most sympathetic way possible. He sets this relationship on such a high perch only to make Antonio's fall devastatingly hard. It works because it invokes all of the dark and negative feelings of loss, anger, and injustice by the end. It's going to be a rough ride. Buckle up.
The film also works because of its main characters. It's never explicitly called out that Antonio and Kathy's marriage is an interracial one. Chon and Vikander have fantastic chemistry as a salt-of-the-earth couple. Their love and dedication to one another feel authentic as their relationship is put through the ultimate wringer. Chon's portrayal of Antonio is complex as well. His ultimate goal is to stay in the U.S. with his family, but he waivers between winning an almost impossible victory and surrendering to the system.
One of the keys to presenting good tragedy is the idea of tension and release, which is done masterfully throughout Blue Bayou. Notes of hopelessness are broken up by fleeting hope. One note of hope comes from Vietnamese immigrant Parker (Linh-Dan Pham), who quickly becomes an ally and source of support for Antonio. Of course, the ultimate arc of this relationship is quite tragic as well.
Yes, there is a political and social message here about the very screwed-up U.S. immigration system. As Congress fails to enact any real reform, presidents are free to interpret and enact their policies based on personal whims. Antonio's story is not one of mere fiction but a very fraught reality for thousands of foreign adoptees in the U.S.
Good movies make you feel, even if that feeling is not good.  Chon ensures you'll have feelings at the end of Blue Bayou, just not the happy ones.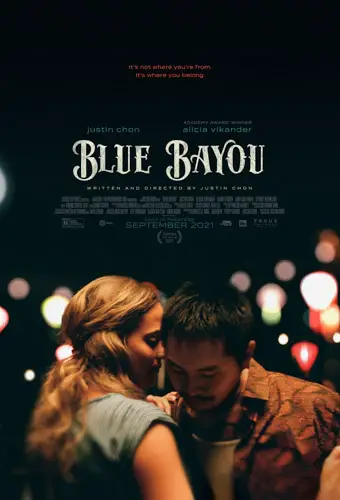 "…Chon and Vikander have fantastic chemistry..."