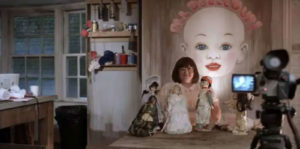 Charles Band has never met a concept he couldn't milk. Puppet Master, the longest-running independent film franchise ever, has 14 titles, 12 of which are canonical. The director/producer/writer connects seemingly disparate films in original ways (he was doing shared universes before they were cool but after they were retro), though results do vary. So, it's no surprise that his company, Full Moon, has found recent success spinning off popular characters into solo adventures, such as Blade: The Iron Cross. Now, he turns to the Demonic Toys series and plucks one of its iconic characters for a turn in the spotlight with Baby Oopsie.
Written and directed by William Butler, the horror-comedy stars Libbie Higgins as Sybil Pittman, who is fascinated by dolls. She hates her dreary day job at a call center, but in her free time, Sybil hosts a YouTube show dedicated to the restoration and preservation of dolls. She also indulges in made-up stories about them, such as having two of the dolls get married. The show is also a good distraction from her home life, as Sybil still lives with her abusive mother, Mitzy (Lynne Acton McPherson).
One day, the postal worker delivers some more dolls, sent from her fans, to Sybil. She opens the boxes and finds the burnt head and torn torso of Baby Oopsie. After cleaning up and fixing the doll, it comes to life, though at first, no one but Sybil sees it. Unfortunately, Baby Oopsie has murder on her mind, putting Sybil's friend Ray Ray (Justin Armistead) and housemate Kristy (Marilyn Bass) in grave danger.
Baby Oopsie is intriguing on several levels, with the first being its grimy, grotesque atmosphere. Sybil's house is a dump, as Mitzy can't be bothered to put her dishes into the sink, much less take out the trash. This may sound unappealing, and to some degree, it is, but that is the point. This nastiness adds to Sybil's characterization because, of course, she's initially onboard with Baby Oopsie, who starts killing people who've ruined her life. But it also enhances the scare factor, as that icky feeling permeates every scene, allowing the visceral carnage to pop off the screen.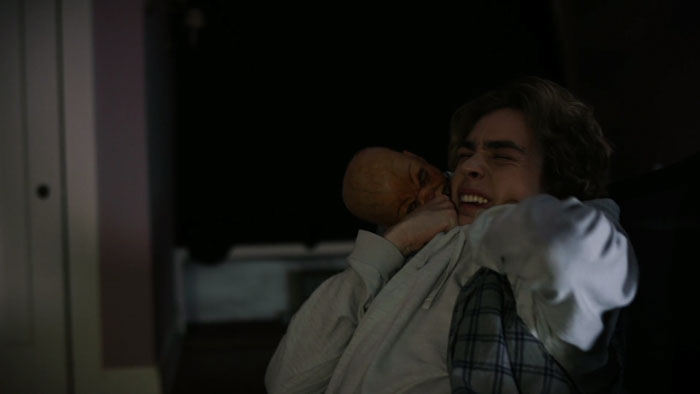 "…Baby Oopsie has murder on her mind…"
Butler also makes sure the film still looks good, as the muck and filth is an intentional production design choice. This means camera movements are smooth, the editing is tight, and the lighting especially is fantastic. These elements further help the chills and thrills unfurl as the 76-minute runtime flies by. When Baby Oopsie kills the neighborhood nuisance, who stole Sybil's credit card, the attack is brutal, bloody, horrifying, and exciting.
Butler's screenplay for Baby Oopsie houses a strong character in Sybil and a few great twists at the end. However, some moments feel unnecessary or out of place. For example, Kristy brings a man over, and their sexy time is interrupted by Mitzy being creepy. Later, Kristy has a bath, and this scene could be excised without changing a thing. Even with such a brief length, the film still feels somewhat padded.
But, the cast helps keep one invested even when certain scenes don't work. Higgins is instantly likable as the doll-obsessed Sybil. Her lack of confidence and inability to speak for herself are well played. Viewers will want to punch McPherson in the face even before she appears on screen. Yeah, she's that good as the spiteful mom. Ray Ray is on the verge of obnoxiousness, but Armistead is just earnest enough that viewers don't hate him. The actor handles the ending reveal pretty well.
Baby Oopsie is a creepy, bloody good time with a pitch-perfect finale. Bear in mind that while not every moment works, Butler delivers where it matters. The film is scary and contains splatterings, slashings, and slayings aplenty. While it won't be everyone's cup of tea, fans of Band's most notable works and genre enthusiasts will have fun.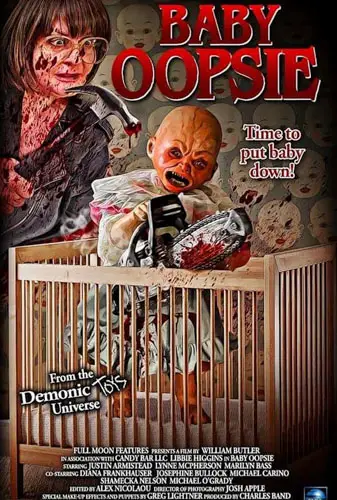 "…a creepy, bloody good time..."