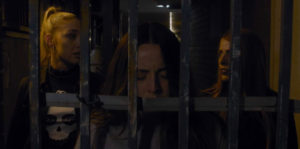 The masked killer troupe is honored by keeping Hinschen's face offscreen until he covers it in blood. The local legend segment setting up the killer's backstory is dove-tailed into the mystery trauma hovering in the air. This increases the dramatic impact of the dread, starting with small bubbles and escalating into tidal waves. The scenes where Hinschen demonstrates the killer's landscape of insanity are gut-wrenchingly horrifying. The use of noir-like flashbacks keeps upping the terror ante with each revelation. We've seen this kind of cross-genre pollination from Australian horror movies before, including the excellent Christmas slasher Better Watch Out. What Morris and Hinschen essentially do with their suspense slasher mash-up is enrich the masked murderer story with a dimension and impact previously unseen.
The gore is simple, sparse, and mostly practical. What it lacks in volume, it makes up for with imaginative application, such as the blood dripping down musical instruments in the opening credits. The visuals are well-lit and functional without trying to flair it up. Where the stylistic wings spread is the magnificent original score by Nate Collins. Collins proves here why the synthesizer soundtrack is the inheritor of the mantel once held by orchestral scoring. The music is pounding and relentless in how it burrows into your pores.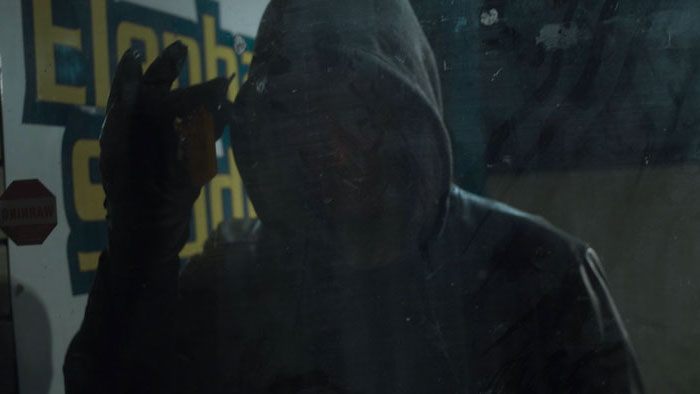 "…pounding and relentless…"
The acting, for the most part, is better than usual for a slasher but still a tad broad, though this may be due to the rock band theme. The performance that rises up to fright royalty is Tones, who carries the movie balanced on her pinkie finger. Some actresses have talent so strong it creates fissures in the air around them. Tones brings that kind of intensity to this role. Any feature looking for its pulse would be wise to give her a look.
The queer aspects of the story feel natural and definitely, a refreshing sight, as homosexuality was still illegal in Brisbane back when I went to high school there. This movie shows why Australia remains a hotbed of indie horror innovation. Bliss of Evil will take you for a heart-punching ride up a highway of gooseflesh.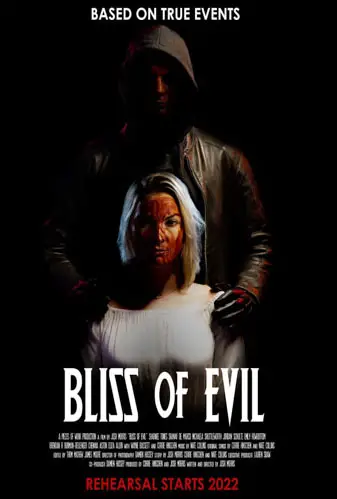 "…a heart-punching ride up a highway of gooseflesh."