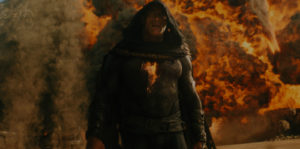 I should also point out that I know nothing about the character's lore, like nothing at all. So I can't speak to its authenticity from the DC comics. After watching the film, I couldn't care less about Black Adam, the Shazam mythology, or the ancient city of Kahndaq. I'm not invested in any way. This goes for the entire story. It's all been done before. There's no great message or moment to make this a classic for the ages.
What people have told me about Black Adam is that he's a villain in the comics. With Johnson's version, he's decidedly antihero. Like Deadpool, he would rather kill the baddies instead of subduing them. He doesn't hate the Justice Society, he just wishes they'd go away. This goes to my very first point. Black Adam is all about Dwayne Johnson playing the superhero without the pointy ears. As the antihero, Black Adam's personality is pretty one note, and that note consists of being perpetually pissed off.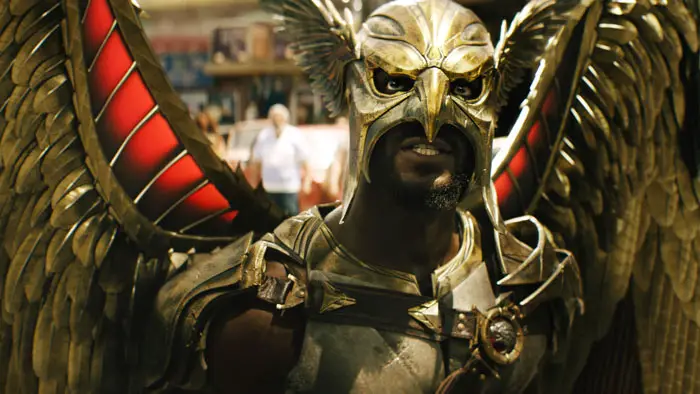 "…the surprising stars are Aldus Hodge and Pierce Brosnan."
Regarding the Justice Society, the surprising stars are Aldus Hodge and Pierce Brosnan. I loved seeing these two on the screen. Their chemistry is heartfelt and magical. I also loved watching them take on everybody. Sadly, Atom Smasher and Cyclone are inconsequential to the plot. You can literally take them out, and the story's outcome will be the same. Could the three writers at least attempt to make them meaningful?
In the end, if seeing The Rock play an antihero (ala the WWE Attitude Era Rock sans electrifying personality) entices you, then you're really going to enjoy Black Adam. It has decent special effects, and the body count is high. But if you're tired of disappointing superhero pictures, maybe don't bother. When a big studio commits hundreds of millions of dollars to a tentpole movie, we expect great, not merely good. This will not restore your faith in the genre.
"…all about Dwayne Johnson playing the superhero..."