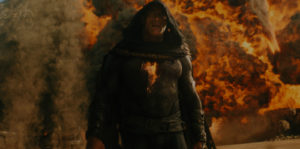 Let's make no mistake about it: DC's Black Adam is a superhero vehicle for Dwayne "The Rock" Johnson. In fact, this movie wouldn't exist without Johnson's hands-on involvement. That said, directed by Jaume Collet-Serra and written by Adam Sztykiel, Rory Haines, and Sohrab Noshirvani, the film, is a thrilling roller coaster. Johnson makes being a superhero look easy. But is that enough to revive the genre?
Black Adam opens in the archaic city of Kahndaq. Just like its 5,000-year history, the people today are still slaves but now to the corrupt politicians and gang members. Believing in hope, the stalwart Adrianna Tomaz (Sarah Shahi) and her skateboarding son, Amon (Bodhi Sabongui), are on the chase for an ancient relic known as the Crown of Sabbac. Fortunately, the story is not about a race to the crown, as Adrianna finds the crown rather easily.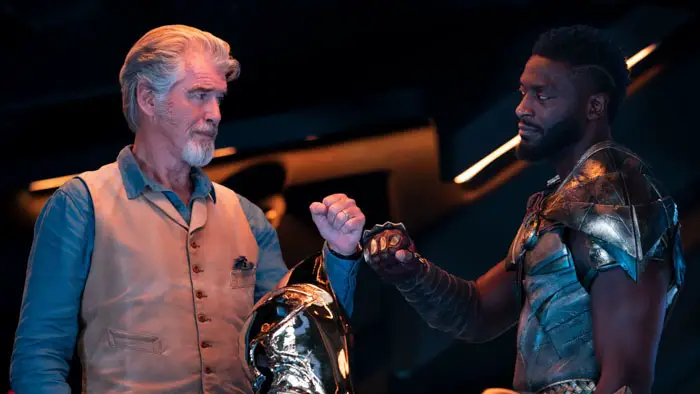 "…Black Adam must take on the Justice Society while knowing that there is a bigger threat emanating from the Crown of Sabbac."
No, it is keeping the crown from the evil ones that is the challenge. As an army of goons confronts her, Adrianna puts her anthropological skills to work and awakens Kahndaq's ancient Champion, Black Adam (Dwayne Johnson). Following the successful summoning, Black Adam makes quick work of the goons, and Kahndaq has a hero, well, more antihero, to liberate its people.
Meanwhile, on the other side of the world, Amanda Waller (Viola Davis) can't have another overpowered being with Shazam-like abilities walking the earth. So, ordered to deal with Black Adam, the Justice Society is dispatched to Kahndaq to physically subdue him or make him utter the word "Shazam" to return him to his mortal state. The Justice Society consists of Hawkman (Aldis Hodge), Dr. Fate (Pierce Brosnan), Atom Smasher (Noah Centineo), and Cyclone (Quintessa Swindell). Now, Black Adam must take on the Justice Society while knowing that there is a bigger threat emanating from the Crown of Sabbac. Can Black Adam and the Justice Society put their differences aside long enough to save the day? Stay tuned.
Let me start by saying Black Adam should be a lot better than it is. It's your typical superhero flick; the only thing going for it is The Rock as its antihero. We have an origin story, a country to save, and a city to destroy with a lot of punching and pummeling. If you like action, then you're going to have fun, but this is by no means a perfect movie and doesn't stack well against old-school MCU (everything up to phase three). Its weakness lies in the by-the-book story and does nothing to overcome the superhero fatigue we've been feeling for a while.
"…all about Dwayne Johnson playing the superhero..."