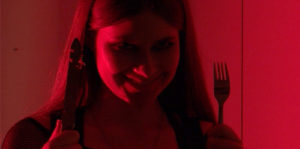 Mixing a serious issue like bulimia with a comically macabre topic like cannibalism is a bold choice. But, as is often the case, heavy issues can always do with some genre levity, and Becca Kozak's darkly humorous Binge and Purgatory certainly fits the bill. It is easily digestible with a runtime under five minutes, those who can stomach it will find the short to be a source of savory goodness.
We open the film with Malady (Elizabeth Larkin) shoving copious amounts of junk food in her face. Kozak makes sure to give us plenty of close-ups of a rather delicious-looking cake getting mauled. After a cursory glance in the mirror, Malady proceeds to regurgitate the food she just ate. Naturally, the writer/director shows this in glorious detail.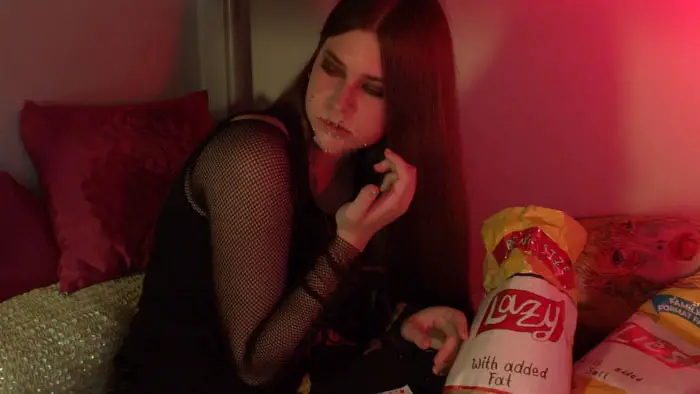 "…Malady's mother forces her to eat a piece of her own body…"
Now, Mom (Cynthia Loewen) enters the fray. She's a no-nonsense authoritarian outraged at her daughter's assault on her food pantry. Lest images of vomit weren't gross enough, Malady's mother forces her to eat a piece of her own body and thus begins a sordid buffet of grotesqueness.
Of course, all of Binge and Purgatory is done with what feels like a tongue-in-cheek approach. None of the aforementioned carnage is particularly believable, and no one can miss the use of props and fake blood. Is it cheap-looking? Yes, but one gets the sense that the intent is to entertain and not scare.
Fun and undeniably silly, Binge and Purgatory is a successful short film that adds a degree of flippancy to what is an otherwise sobering subject. I tend to look for more poignancy in cinema. But I like candy bars and cake, and whatever they may lack in nutrients, they more than makeup for it with taste. The same can be said about Binge and Purgatory. Wasted calories this is not.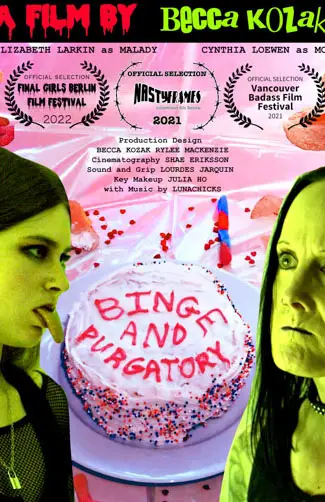 "…wasted calories this is not."