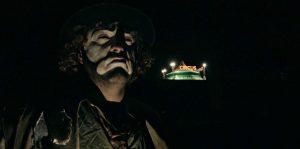 On the more negative side, writing-wise, excluding Jay, Casey, and Donny, the friends are a bit bland. But, given the nature of this kind of film, a high body count is expected, and the group fills this out nicely. It helps that Haitz keeps the pace moving, so once the carnage begins, it never lets up. The climax of Big Top Evil is especially fun, as the film ups the insanity to a truly ridiculous, and very welcomed, degree.
However, those viewers hoping for some good old fashioned frights will be disappointed. While I wouldn't say, the film lacks atmosphere or style it isn't chilling. The tone Haitz aims for hones in moreso on the sleaze and grime than tension and dread. This stripped-down, off-the-beaten path style is precisely why Big Top Evil plays out as a love letter to the 1970s grindhouse cinema titles. But, those films were never scary. Interesting? Some of them, sure. Fun? Definitely. But eerie and creepy? By and large, no; of course, some exceptions do apply. The same thing can be said for Haitz's passion project.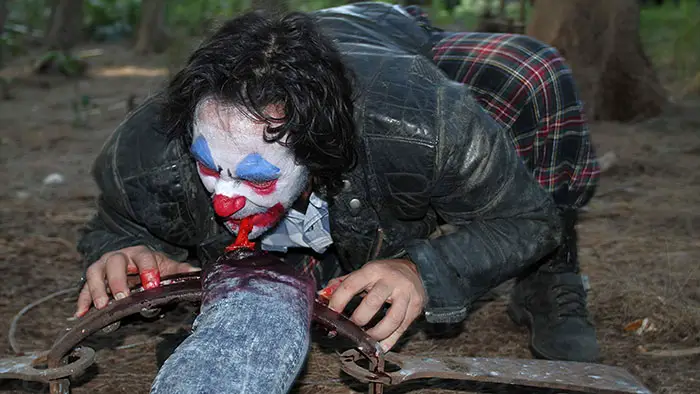 "…though most every movie can stand to have more Bill Moseley added to them."
The cast is pretty good for the most part. Bill Moseley is in the film as Mr. Kharver, the ringmaster of the deadliest show on Earth. Moseley has always been an underrated character actor and is terrifically menacing in the role. I do think he is not in Big Top Evil enough, though most every movie can stand to have more Bill Moseley added to them. Aside from being a solid director, and decent screenwriter, Haitz makes for an affable and charming leading man. He imbues Jay with a lot of heart so that the audience can root for at least one person.
Luckily, Casey, as brought to life by Cardinale, is also easy to like. A scene where Cardinale is talking to Haitz about a song he just sang is sweet and establishes their relationship well. The rest of the cast work well enough, especially Judd as Candy. She hits the proper notes of both sweet and evil, making for a fun, yet monstrous villain.
Big Top Evil is just plain fun. While it fails to deliver any scares and most of the characters are cookie-cutter kill count fodder, it is very well-paced. Plus, Haitz manages to use his resources to good effect, and the apex point is so over the top it is kind of glorious. If you are a fan of Frightmare or Scream And Scream Again than you'll find plenty to enjoy here.
"…a 1970s exploitation inspired evil clown movie..."