The architects of the modern age are responsible for the construction of more than just iPhones, self-driving cars and motion control video games. Bjarke Ingels designs and engineers buildings around the world that defy traditional conventions, incorporating ecological sustainability with that of subconscious sociological ideals, capturing the essence of each culture surrounding the projects of his company, the Bjarke Ingels Group (BIG). Director Kaspar Astrup Schröder continues his strong affiliation with observational documentaries (closely following his other 2017 docu, the heart-wrenching Waiting for the Sun) by tailing about after Ingels for several years, chronicling the struggles and compromises that his work demands. Though at times intensely contemplative, and standing as a strong spotlight on the creativity and vision of its subject, Big Time also fumbles with defining a central theme, toying with a stream of bait-and-switches that result in possibly an almost inconsequential document.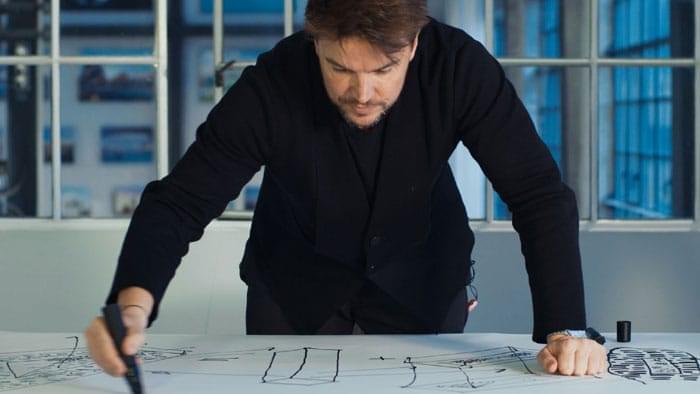 "…intensely contemplative… also fumbles with defining a central theme."
After a series of inkblot-like cerebral scans setting an almost ominously tranquil tone during the opening credits, the progenitors of Ingels' obsessive devotion to architecture lay the foundation for his impending 40th birthday as he mounts one ambitious project after another in his homeland of Denmark. With several rousing successes after nearly a decade of work, Ingles branches his company into North America where he quickly makes sizable waves with his atypical style and imagination. Punctuated by his various explanations for his designs and his desires for each project, the timeline moves at a scattered pace as he works to maintain his company's illustrious reputation at the same time juggling his health and personal life. A flurry of MRI images, which had commenced the film, are returned to often, as if bookending specific sections of his life, reinforcing where his ingenuity lies, while adding a foreboding context.
The most notable and effective element is the enterprising utilization of multi-layered sound design by Bobby Hess, managing to wrangle the stress and elation of Ingels to be highly accessible and immersive. The aerial photography by Schröder and Brett Landry is grandiose and sweeping, capturing the scale and nuance of Ingles' finished projects in proper appreciation and awe. The repetitive-yet-welcoming score by Ali Helnwein and Daniel McCormick harkens vibes of Philip Glass's work in Godfrey Reggio's Qatsi trilogy. However, the inconsistency of the film's editing by Schröder, Bobbie Esra Pertan and Cathrine Ambus produce a staggered and oddly meandering pace (jumping from contemplative journey into the creative process of Ingels to a casual play-by-play of business challenges), undoing the filmmakers' possible intent, and concluding with an utterly dissatisfying ending.
"…staggered and oddly meandering…with an utterly dissatisfying ending."
At-times beautifully detailing the intriguing life's work of a foremost architect, it squanders its subject's potential for lively versatility and delineable humanity. Constant verbal reinforcement of Ingels' importance as a contemporary creative figure comes at the cost of an investigative expose into his process, thusly leaving audiences with a rather limp portrait of an otherwise fascinating individual. While Schröder has proven on multiple occasions to be a powerful documentarian capturing uniquely engaging instances and peoples, Big Time doesn't even come close to being on par with that of his previous works, and is borderline forgettable as a result.
Big Time (2017) Directed by: Kaspar Astrup Schröder. Written by: Kaspar Astrup Schröder. Starring: Bjarke Ingels.
★★★ / ☆☆☆☆☆