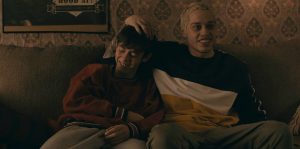 To start things off, let me say that I absolutely adored Big Time Adolescence, mainly because it reminded me of my own teen years. I'm not sure how many of you spent too much time with older friends with whom you probably shouldn't have been hanging out, but I have to imagine that there's a lot of us out there. Some of the best stories of my entire life go back to hanging out with older punk friends who didn't care about having a bunch of sixteen-year-olds around. At the time, when you are young and impressionable, you think it's so cool that these 21+ people want to hang out with you. It often doesn't click until you're older that it's not necessarily typical for this to happen.
In Big Time Adolescence, Monroe "Mo" Harris (Griffin Gluck) is a sixteen-year-old who just so happens to be best friends with his sister's 23-year-old ex-boyfriend, Zeke (Pete Davidson). They hang out constantly, drink beer, smoke cigarettes, and do nothing in particular. However, as their bond grows over time, Mo starts to look at Zeke as kind of an older brother figure, much to the dismay of his parents, particularly his dad, Rueben (Jon Cryer).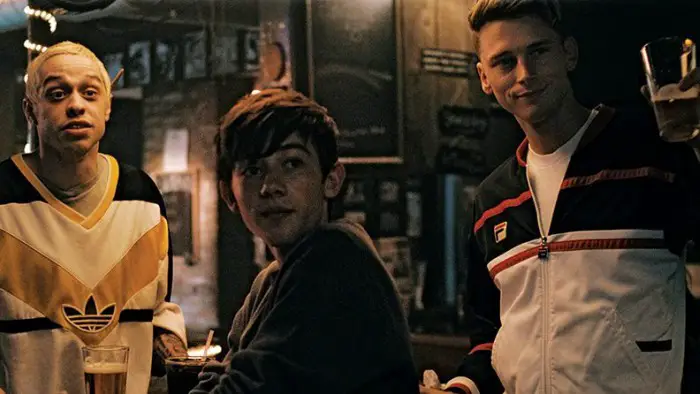 "…a sixteen-year-old who just so happens to be best friends with his sister's 23-year-old ex-boyfriend…"
At the outset of the film, Mo doesn't involve himself with the marijuana and drugs that Zeke and his friends often imbibe. He's just a bystander to those activities, and his relationship with Zeke is actually pretty wholesome. A lot of the time, it's just him hanging out at Zeke's house with Zeke's girlfriend, Holly (Sydney Sweeney) and his friend, Nick (Machine Gun Kelly).
Then, Jon Epstein (Thomas Barbusca), a friend of Mo's that's actually his own age, asks Zeke to bring alcohol to a senior's "Pimps & Hos" party. He tries to tell Jon no, but he ends up saying yes, which means Zeke has to be the one to get him the alcohol. Zeke suggests that Mo sell some of his weed at the party, and thusly, it becomes a regular thing. So regular and so profitable in fact that Zeke quits his job at an appliance store to sell weed to high-schoolers full time.
What's interesting about Big Time Adolescence is the dynamic between Mo and Zeke. Though Zeke is the older of the two, he's the one who is, more often than not, less responsible. Zeke is directionless, but talks a big game about future plans, though he lacks follow-through. Mo thinks Zeke is cool because of his give-zero-f**ks personality.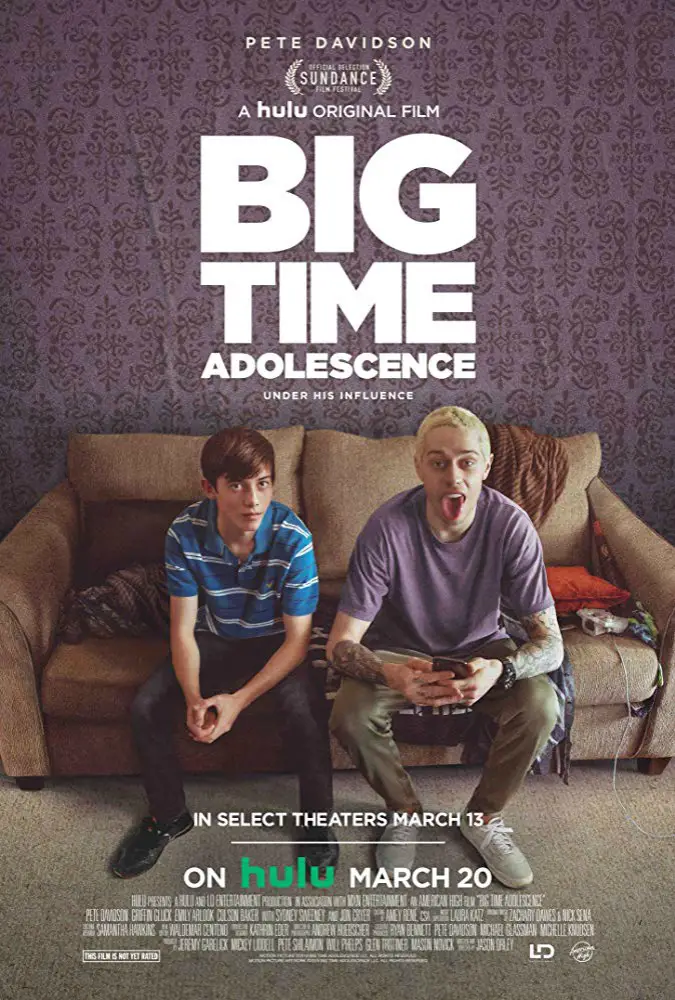 "…He lives in the past, hoping to rest on his high-school laurels forever."