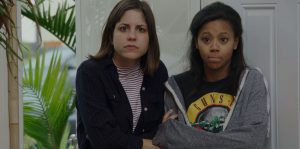 Far too often, relatively junior filmmakers make it a mission to have their presence felt in their films. Unfortunately, this frequently takes the form of impressive yet distracting flourishes that may prove their technical prowess but can also hint at a lack of confidence in the material itself. Writer-director Jack Lawrence Mayer's drama, Big House, shows impressive restraint by allowing the quality inherent in the script and cast to take precedence over any obvious technical showmanship. That the film succeeds is due in no small part to Mayer's trust in his team.
A group of friends retreats to a house in Oceanside, CA, for a weekend of fun, drinking, and maybe a threesome for good measure. The house belongs to the father of Claire (Ellie Reed) and Ali (Paige Collins). The newly (and perhaps reluctantly) engaged Claire invites along the slightly neurotic String (Michael Molina), a close friend whom she plans to sleep with. This is, of course, unbeknownst to her fiancé, Zach (Evan O'Brien), who wasn't invited.
Ali brings along her partner, Art (Albert Huber), and their new friend, Jas (Zoe Schwartz), for their first threesome as a couple. All parties have their plans thwarted when Zach makes a surprise appearance, forcing the houseguests to come up with an elaborate ruse to explain the presence of String and Jas. Can the friends avoid having their relationships implode?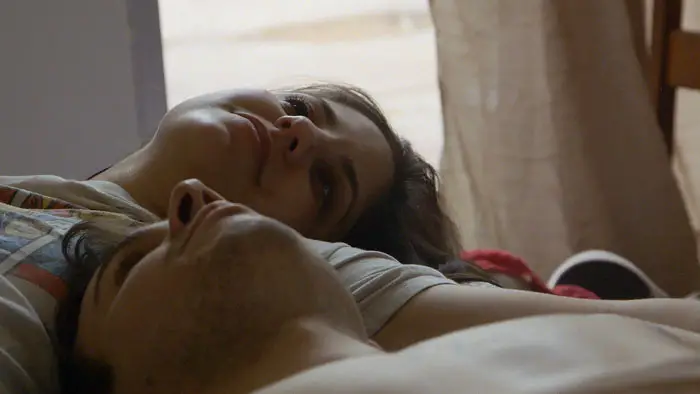 "All parties have their plans thwarted when Zach makes a surprise appearance…"
Big House is rife with a sense of perpetual awkwardness, and the filmmaker makes the audience squirm in anticipation of the inevitable blow-up, which hits quite hard. His ability to sustain the tension for so long is impressive, even if the awkward dinner party scenario has become something of a trope. The vibrant script and unique directorial approach make up for whatever points are to be deducted for this lack of originality.
It's rapidly evident that the film is tailored for viewers who value performance over cinematic luster. There isn't much in the way of visual composition as the camera often bounces from performer to performer without a sense of precision. This freewheeling visual style brings the audience into the space and subsequently gives the cast the room they need for their roles to come off as organic and spontaneous. Indeed, if this formal approach didn't work so well, one wouldn't be remiss to wonder if the film would be better suited for theater rather than the cinema.
The performances are all excellent, but special recognition needs to be given to Ellie Reed. The narrative hinges upon her ruse, and Reed's range is on full display as we see her effectively switch registers in order to keep her life from falling apart. Claire's dynamic with String is strong, and their relationship brings the film its most emotionally poignant moments as they attempt to salvage a strong connection in the face of Zach's surprise arrival. These interactions are integral to the story's success, and had they not been so expertly done, this could have been a much harder watch.
Big House is ultimately successful because Mayer sticks to the basics of storytelling and performance. Funny and uncomfortable in equal measure, the film is selfless in that it gives so much to the performers. But if we praise the lack of directorial flair, we can also question this approach's viability going forward as one must wonder its appropriateness within the medium. The director's invocation of Renoir may be his attempt to link this to the great French filmmaker's decidedly more cinematic output. As such, I think it's only fair to invoke another French legend, Robert Bresson, to warn of the dangers of "filmed theater."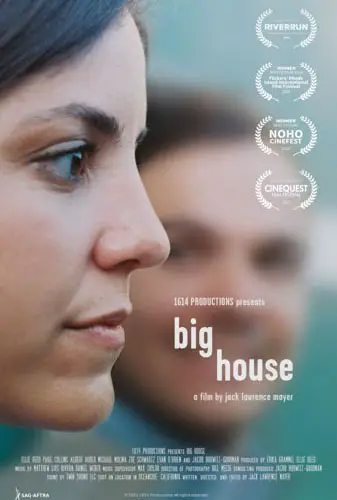 "…funny and uncomfortable in equal measure..."