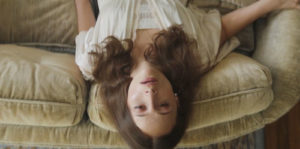 CINEQUEST FILM FESTIVAL 2023 REVIEW! Countless paths exist or are used to find one's way out of grief, which is a personal feeling. Bibi is such a journey on the screen that turns into a treatise on madness, coping, and the evil malaise that lurks within when tragedy strikes. Writer-director Christopher Beatty fashions a series of stylized, bleak images of one person, in this case, Vivian Ashwood (Elizabeth Paige). The film is about her trip into addiction, delusion, and daytime nightmares. The impeccable camera work and almost chiaroscuro nighttime lighting give the film a stylized look into the labyrinth of a diseased mind.
We see Vivian's face in profile in cracked mirrors. Her daughter, Bibi (Judith Ann DiMinni), goes through the hollow motions of life alongside her. Vivian and Bibi move stylistically in almost a dance movement, floating in the air and the space of the home. Vivian is under the treatment of a family friend, Dr. Grayson (Rick Zahn). Medically, she is given a mixture of pills to allow her to control her feelings and stop the nightmares. Those nightmares are of a child in a stable and memories that surface. The personal horror also manifests itself in the presence of a black-clad large male intruder, either seen on the property at a distance or in the home.
Vivian and Bibi go through the routines of life yet never savor what it can offer. They both go to a pool to sunbathe and sit like automatons. The dialogue is stilted; their movements are bird-like, turning just their heads. The only thing that seems to snap Vivian out of her melancholia is visiting a childhood friend named Tammy (Nancy Blanchard). She loves her drink, life, and younger men. She urges Vivian to join her at a local club gathering for the hot lead singer of a band, only to be rebuffed. Nancy is everything Vivian isn't, and the two seem to be on a collision course.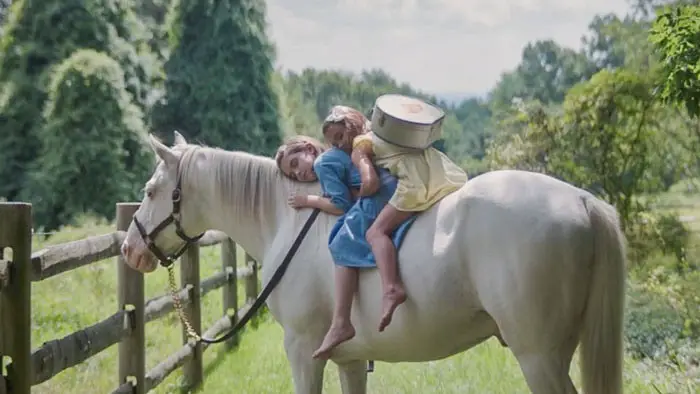 "…Vivian and Bibi huddle together in terror against the relentless pounding of their bedroom door."
Bibi builds the sense that something isn't right in the world of Vivian. There is more to the grief than meets the eye and more to the surroundings and troubles to come. In a lovely moment like the Claire Bloom/Julie Harris sequence in The Haunting, Vivian and Bibi huddle together in terror against the relentless pounding of their bedroom door. The rollercoaster of sensations and emotions escalates into moments that turn the film into a demonic child/intruder invasion story, blurring the lines between what is real and what is not that leaves you guessing.
Symbolism of water and rebirth are also prevalent. The stimulation of the senses that trigger memories of a merry-go-round is also fodder for intensity. The merry-go-round is the safe place for a kid that gets violated in a nightmare sequence. Vivian and Bibi find out there is no safe place, not even the closet. The demons seek them, and reality rears its head once again.
Bibi features some tour de force and restrained performances by the entire cast. Paige, with a resemblance to Isabelle Huppert, demonstrates a depth of mental troubles without resorting to histrionics. The most intense moment is when she attempts to hang herself, only to break down after teetering on one foot and then a heel. DiMinni plays well off her on-screen mother. She punctuates the deep trauma of memories of an event so repugnant that it can only be hinted at. Contrasting with all of this is the positive influence of Tammy. Blanchard does her best and, in fact, supplies one of the lasting shock moments that you don't see coming.
Tasty, ultimately horrible, and uplifting, Bibi is a masterful film on one person's trip into grief. The picture treads the path of Roman Polanski's Repulsion. In fact, it could be the book's end as a statement of madness, deception, and cruelty.
Bibi premiered at the 2023 Cinequest Film Festival.