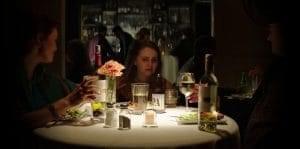 Dan Mirvish's film Bernard and Huey is based on characters from Jules Feiffer's cartoon strip featured in the Village Voice in the late '50's and then later in Playboy magazine. Feiffer wrote the script three decades ago about two estranged friends reuniting after 25 years and a woman who comes between them.
Bernard (Jim Rash) lives in New York and more or less has his act together. Huey (David Koechner) is a train wreck who has failed to mature at all in the years since they've seen each other. When his marriage sours he decides to track down his old buddy Bernard. When Huey shows up at his door Bernard's life goes tilt, mostly of his own doing trying to even the score with Huey.
Mirvish updated the film to take place in present day with flashbacks to Bernard and Hueys' college times as they try to impress women: Bernard with his intellect and Huey with the sheer leather-jacketed bulk of his presence. The younger versions of them speak more like hep cats in the '50's:  their language and personal style is more beat poet than gen-x, particularly Huey. Feiffer himself was young when Kerouac was news so this makes sense. It gives the film an odd anachronistic turn, which is actually kind of cool. While updating the time period of the film does make it more accessible, I would not have objected to keeping it true to the period of the real hipsters… it would have been fun as a lush mid-century romp like Down With Love.
"…when Huey shows up at his door Bernard's life goes tilt…"
The dynamic between the two men is very familiar. They are Oscar Madison and Felix Unger. They are Withnail and I. They are Neil Page and Del Griffith from Planes, Trains, and Automobiles.  One larger-than-life slovenly extrovert and one buttoned-up nervous introvert. It's never not funny and it's always a great way to explore human dynamics.
You're meant to see Huey as a lovable lunk, but really he's a loud, arrogant, shitty, misogynistic philistine. Bernard revels in the contrast, seeing himself as sophisticated, smarter, and kinder. However, that's all on the surface. His behavior is not better than Huey's, just smoother. At least Huey owns his own douchebaggery. Bernard speaks wistfully of lost love but in midlife, he's still chasing women and dodging commitment (to such a degree that he can't even decide on furniture for his apartment so he doesn't have any). The real fulcrum of the conflict is set when he starts a thing with Huey's adult daughter Zelda (Mae Whitman). The kind of thing millennials call "hanging out."
"Mirvish has stylishly blended the past and present for a comfortable vibe…"
The actors are wonderful. Jim Rash, who was brilliant as Dean Pelton on Community, plays Bernard pitch perfect. David Koechner chews the scenery as Huey, a beat-era caveman air-dropped into Manhattan still wearing his insufferable hipster hat. Mirvish has stylishly blended the past and present for a comfortable vibe that makes the film fun and cool despite the ridiculous relationship chaos swirling around.
Bernard and Huey (2018) Directed by Dan Mirvish. Written by Jules Feiffer. Starring David Koechner, Jim Rash, Mae Whitman. 
8 out of 10