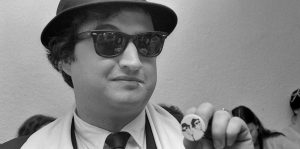 AFI FEST 2020 REVIEW! I was only a child, but I remember staying up way past my bedtime, fighting sleep, and watching Saturday Night Live when it first aired on NBC. Everyone on that first cast went on to have stand-out careers after leaving (or being fired from) the show, and the most infamous stand-out was John Belushi. His reckless lifestyle was so notorious that it was sadly repeated by the death of Chris Farley.
Belushi's life and demise were the subjects of many news features and unauthorized true Hollywood stories. Amazingly in Belushi, writer/director R.J. Culter brings a new perspective to Belushi's life that I thought I'd never see or hear.
"She resisted allowing anyone to tell Belushi's story in any authorized way on film until now."
The documentary is composed of audio recordings that John's wife, Judy, had collected over the years as an oral history of his life. She resisted allowing anyone to tell Belushi's story in any authorized way on film until now. Those featured in the doc are some of the biggest names in comedy, featuring those who knew him best, including Dan Aykroyd, his brother Jim Belushi, SNL creator Lorne Michaels, Chevy Chase, Jane Curtin, Ivan Reitman, and Judy Belushi, herself. There are also ghosts from the past, such as Penny Marshall, Carrie Fisher, and Harold Ramis.
As far as a biographical documentary is concerned, Belushi is relatively typical. It puts Belushi's life in chronological order, but instead of talking-head interviews with narration, John's life is recounted through his friends' testimonials. We get a little back story about Belushi's family as Albanian immigrants living in Wheaton, Illinois, and the discovery of his comedic talents during his early days as a high school and college sketch comedian. We learn of his disdain for the concept of Saturday Night Live, his deep devotion to his wife, and the tragic miscalculation everyone had about the drug culture in the 70s. I should also add that the movie features Bill Hader reading entries from Belushi's letters to his wife, and before you ask, no, Hader doesn't do a Belushi impression.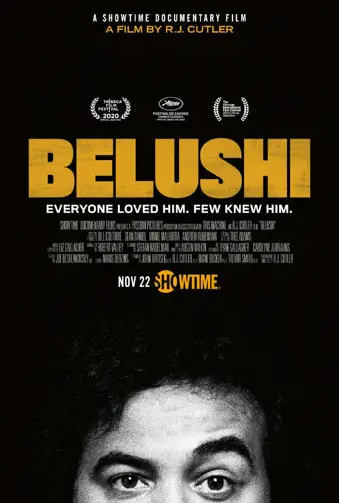 "…you're going to gobble up a massive pile of new stories."