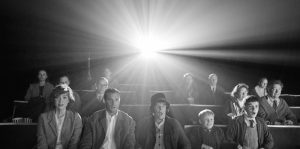 Just as Ice Cube wrote Friday to demonstrate there is more living in economically distressed neighborhoods than misery, Branagh shows that people in Belfast fall in love and try to make up for what they lack in material goods with ingenuity. But, unfortunately, Buddy discovers the hard way that five-finger discounts aren't that cheap and that learning which religion is right is the sort of question that plagues his elders.
Most of the drama is told from Buddy's perspective, so Hill's performance is vital to keep it moving. His emotions are authentic, so he thankfully gets by on more than being cute. The questions posed in Belfast aren't always the most profound, but they don't have to be. To a nine-year-old, simply learning how to appeal to a girl in his class is a weighty challenge. So watching Buddy bonding with his grandparents is undeniably touching. It also makes viewers admire those who remained in the community as it became harder to live there.
It's refreshing to discover that Dornan can do more than look glum during kinky sex a la Fifty Shades of Grey. Branagh has given him a recognizably human role. Pa's financial management skills are negligible, but he's trying to provide for both his family's needs and their safety. Dornan plays that struggle truthfully.
"…[Branagh] knows how to achieve impressive images no matter what."
Perhaps Branagh could have examined why the Troubles started and some nuances in how violence came to dominate an area with a smaller population than Kansas City. That's a little tough to fit into a 90-minutes, and sometimes documenting a single family's efforts to keep a roof over their heads is enough. In the Name of the Father deals with some of these weightier matters, so the director can be satisfactory by simply telling Buddy's story.
Like Branagh, Van Morrison hails from Belfast, so his songs fit the movie even if his recent tunes about lockdowns indicate he's better at exploring mysticism and love than penning head-scratching anti-vaccine protest tunes. Going "Into the Mystic" is a lot more rewarding than standing and delivering.
Ironically, Branagh says the recent lockdowns inspired him, and it's easy to believe him. Belfast captures the isolation the troubles brought because leaving home at the wrong time could be fatal. Viruses and terrorists can make us both lonely and scared. By recalling a time that has thankfully passed, Branagh's tribute seems more sincere. If you love your town, you can recognize its problems honesty.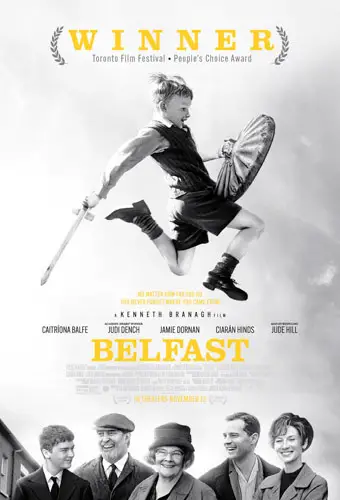 "…makes viewers admire those who remained in the community as it became harder to live there."