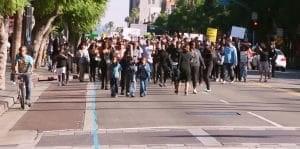 While Bethlem Royal Hospital long predates its most widely known usage, as the first modern psychiatric hospital, it has been continuously operating as such for over 600 years. It is also how the word 'bedlam' meaning an asylum or a constant state of chaotic, wild confusion, entered the lexicon of the English speaking world. It is also where the documentary Bedlam, derives its name. This quite personal film spotlights how the American healthcare system and the federal government have failed to treat the mentally ill, forcing them into incarceration or onto the streets.
Psychiatrist Dr. Kenneth Paul Rosenberg takes the helm, as he seeks to understand how and why the people in his profession don't, and can't, help those most in need of it. He talks to Psychiatric resident Dr. Lacsina, who works at LAC USC. Dr. Lacsina is calling a place to find out if it is a homeless shelter, a halfway house, or some other form of residence, in order to better understand her patient's place.
That patient is 23-year-old Johanna, who had to drop out of college due to her bipolar disorder along with her psychosis becoming increasingly worse. Rosenberg follows her from that initial encounter with Dr. Lacsina and checks in every once in a while throughout the course of two years plus, of filming Bedlam. Some days, she is fine, others she is more incoherent and hard to follow.
Also working at LAC USC is ER Psychiatrist Dr. McGhee. She finds it trying at times, especially when a patient comes in and starts cursing her and her team out. However, she copes knowing how valuable her treatments are to those that enter the hospital. When Todd came to the hospital, refusing medication with cops all around, he seemed on the brink of violence the entire time. Dr. McGhee keeps her composure and is able to treat Todd.
"…spotlights how the American healthcare system and the federal government have failed to treat the mentally ill…"
Monte has had a few run-ins with the law. Every encounter has been in the middle of a mental illness episode. His sister, Patrisse, is an outspoken activist for brother, trying her hardest to ensure Monte receives long-term help. Bedlam follows these people over the course of multiple years, all the while intercutting the history of mental illness and how different eras have dealt with those afflicted (at least with the United States).
In this manner, the movie is a bit dry at times. While it is chockful of very informative moments and has been exhaustively researched, it takes a while to bring all the disparate elements together. Rosemary Kennedy, younger sister to eventual president John F., was one of the first people to receive a prefrontal lobotomy. A direct line between this and JFK's stance towards treating the mentally ill is crafted. However, it is overexplanatory and dull. It is not that this information isn't compelling, and Bedlam certainly has its heart in the right place, but Rosenberg fails to infuse any sense of urgency into the proceedings.
At least, for the first 40 minutes; give or take a few. During the second year of filming, Patrisse Cullors becomes one of the founders of the Black Lives Matters movement, and the documentary finds what it was lacking. Hearing about the government's agenda for the mental illness and advancements in care is one thing, but understanding what society wanted at any given point and detailing those is much more fascinating. As the movie goes on, the director finds a better balance between the information being covered and the human side of things.
"…move its audience to demand better access to healthcare and long term help for those suffering from mental health."
It helps considerably that this is also where much more information about Rosenberg's sister comes into play. His sister, Merle, suffered from a few mental illnesses yet their parents never discussed them out loud. As more of his personal stakes in the game come to light, Bedlam increases its emotional hold on the audience.
That hold is pivotal to the movie's success. No matter the person being discussed or interviewed, the movie views everyone with the same uncritical, humane eye. Todd might be introduced yelling his head off, but his attempts to gain an apartment and stay out of trouble is tenderly treated. The check-ins with Johanna, including a short stint where her dad was hospitalized will pull at your heartstrings. It is Patrisse's devotion to Monte that is the real tearjerker though.
Bedlam aspires to move its audience to demand better access to healthcare and long term help for those suffering from mental health. On an educational and activism front it hits all the right notes. As a movie, the documentary suffers from a poorly paced beginning but gets better and more engaging by the halfway mark.
Bedlam (2019) Directed by Kenneth Paul Rosenberg. Written by Peter Miller, Kenneth Paul Rosenberg. Starring Johanna, Patrisse Cullors, Monte Cullors, Todd, Dr. Lacsina, Dr. McGhee. Bedlam screened at the 2019 Sundance Film Festival.
7 out of 10 Gummi Bears