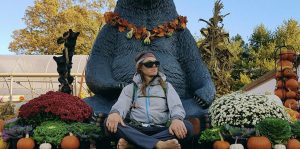 Well into his journey, Baumer decided to hit reset after enduring days of nasty weather and road conditions in Ohio. "How does someone do this?" he asked his camera during one of his many video diary entries at the time. While he still soldiered on, one wishes he would have asked himself that question long before he placed his first foot down.
Sokolow sheds light on his passion, with footage culled predominantly from those diaries, family pictures, videos, and interviews with those who knew him. But by the end of Barefoot: The Mark Baumer Story, Baumer remains somewhat enigmatic. For as focused as he was on his cause, even the website he created for it seemed too eerily predictive: "Barefoot Across America: I Probably Won't Even Make it Out of Rhode Island." The site's URL is notgoingtomakeit.com.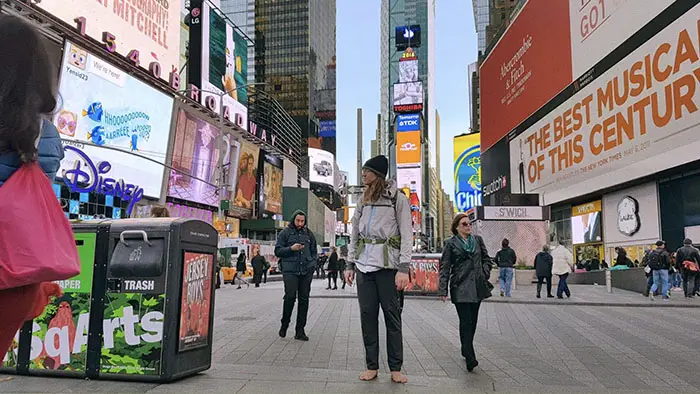 "…delivers a bit more nuance than Baumer's video diaries…"
It's a difficult criticism, as the subject appears to have boundless enthusiasm and a heart in the right place for the cause, but throughout, I kept thinking of how his tale didn't have to end tragically with sound precautions. As someone who has hiked a good portion of the Appalachian Trail and run a few ultramarathons, I understand that training and preparation are everything. From what we see of Baumer here, it does not seem as though he gave thorough consideration to either before heading out.
Sokolow provides a moving tribute to this truly unique man, and Barefoot: The Mark Baumer Story delivers a bit more nuance than Baumer's video diaries (which are still on YouTube). But knowing the inevitable outcome, one wishes that somewhere along the way, Baumer encountered someone who would help him navigate his passion project along a better-plotted path. There is a web of connected routes and trails from which he could have chosen to deliver his message that are far from the narrow, heavily trafficked highways he would record himself on. This is especially surprising when learning that he had traversed the country (in shoes) in 2010.
Baumer certainly left an impact on those in the world around him, and with just a little more preparation and attention to risk-assessment for his travels, he could still deliver it to so many more.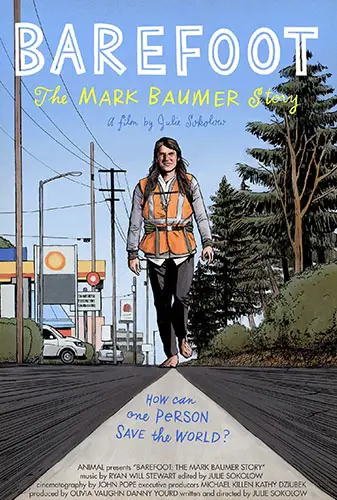 "…determined not to follow life's traditional path and leave the world a better place."