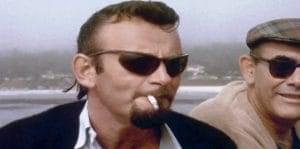 Coming into Bang! The Bert Berns Story, I lacked an explicit familiarity with the man, but anyone with a working ear certainly knows his music and can recognize the obvious influence it's had on music. Berns is the songwriting genius behind dozens of pop hits from the early to late 1960's including "Hang on Sloopy" performed by The McCoys, Van Morrison's "Brown-Eyed Girl", "Twist and Shout" (originally performed by the Isley Brothers but made incredibly popular by The Beatles), Piece of my Heart as performed by Erma Franklin and shortly after covered by a young Janis Joplin, and Strangelove's "I Want Candy" just to name a very select few. It's fascinating to know that one man is largely responsible for all of these iconic songs, and Bang! The Bert Berns Story does a fair job at introducing its audience to the man behind the hits.
"…the film masterfully utilizes interviews, personal photographs, and a collection of Berns' greatest pop hits to support and propel its narrative."
Generally I save my criticisms for the latter part of my reviews, but this has to be said upfront; I had to revisit this film several times because the narrator's voice took me out of the experience and put me in a coma. Bruce Springsteen E-Street Band and The Sopranos alum Steven Van Zandt just isn't the right choice for this film. I have no doubt that his voice was chosen simply because he's a famous musician who has a distinctly Italian sounding voice to drive home Bert Bern's connection to the mob, and you know what? That's fine. Those are valid reasons to utilize someone like Van Zandt, but his monotone line deliveries gave me the impression that Van Zandt was bored with the lines he was reading. They felt inorganic and forced, but thankfully they're not frequent enough to really take away from the movie.
Shoddy narration aside, the film masterfully utilizes interviews, personal photographs, and a collection of Berns' greatest pop hits to support and propel its narrative. The film (co-directed by Berns' own son, Brett Burns) introduces the audience to Bert Berns as the son of Russian Jewish immigrants living in the Bronx, New York City. Berns suffers from rheumatic fever at a young age, which effectively ruins his heart, and in his downtime he studied and practiced music. After becoming enamored by Latin and African American music styles, he incorporated these traits and styles into several of the hits that would eventually lead to an inclusion into the Rock and Roll Hall of Fame as the 2016 non-performer inductee. The focal point on the documentary is hearing about the man from musicians he wrote for and some he directly influenced, but I much more enjoyed learning about Bert Berns from his family and close friends. Ilene Berns is an absolute joy here, as the wife of Bert Berns she reveals the most fascinating look into who Bert Berns was outside of the music business. It's a very powerful moment watching her recall the day she found her beloved husband dead in their bed, and her breakdown during all of this seems genuine and sincere, not at all staged or embellished.
As far as music documentaries go, Bang! The Bert Berns Story is a damned good one. It's entertaining, educational, features great music, and never felt overindulgent or repetitive. It has a ton of heart and a bevy of interesting interviewees who paint a clear and coherent picture of who Bert Berns was inside and outside of the music biz, and they hammer home the long reaching impact Berns had on music as we collectively know it. It's a must see for any fan, new or old.
Bang! The Bert Berns Story (2017) Directed by: Brett Berns and Bob Sarles. Written by: Christina Keating, Joel Selvin.  Starring: Ilene Berns, Cissy Houston, Solomon Burke, Paul McCartney, Keith Richards, Van Morrison, Ben E. King, Steven Van Zandt.
8 out of 10