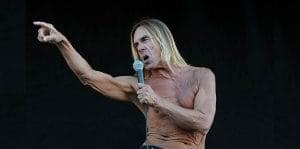 When Iggy Pop is your guardian angel you either got some of the bad acid or you're in a French art film. In the case of Sophie Blondy's Starlight it's the French film thing.
I kept expecting the Muse song of the same name to spin up at some point. Synchronicity can be annoying. Starlight has been in production for a number of years and has gone through several title changes…  originally L'etoile Du Jour, then Morning Star, and when the title comes up on the screener it reads Angel of the North. Despite evoking an Eraserhead sensibility at times, this film remains reasonably lucid and accessible. It follows the French art film style closely, which can feel cliched this far down the line. Comfort food for deep aficionados of the genre. If French avant garde isn't your meat and potatoes Starlight might come off pretentious. It's definitely trippy.
"Starlight is definitely in the artsy demesne but there's a lot to like here if you can groove on the weirdness…"
At a small seaside circus the audiences are sparse, the performers are broke and angry, and jealousy is in the air. There's a clown with no hands.  
Iggy Pop in a long white coat (when he's not shirtless) plays a character named "Le Conscience:" an angel who appears to Elliot (Denis Lavant) the clown and husband to beautiful dancer Angele (Natacha Régnier) and guides him, consoles him, and scolds him.  
Questions. There are questions. Does Angele love Heroy (Tchécky Karyo), the cruel owner / ringmaster of the circus, for his money?  Will Elliot be spurred to radical action when he fears he's being cuckolded by Heroy?  How can the Gypsy singer Zhora (Béatrice Dalle) make sounds so offensive to nature that audience member eyeglasses shatter when she wails? Why will Elliot not pay attention to Zhora, who is crazy about him? Will the clowns revolt (scary thought)?
Béatrice Dalle as Zhora is fascinating. Raw and untamed, one gets the feeling that either Dalle is a fantastic actress or that she's not acting at all. I'm leaning toward the latter. Dalle has had quite the career and tumultuous personal life. I bet she's a hoot to drink with.
Starlight is definitely in the "artsy" demesne but there's a lot to like here if you can groove on the weirdness. I enjoyed the fact that the actors aren't all Hollywood pretty, they are even grotesque in some cases. Blondy also gives you Iggy Pop on a wicker motorcycle. You don't want to miss that.
Coming to DVD and streaming May 9th, 2017.
Starlight (2016)  Directed by Sophie Blondy.  Written by Philippe Benkemoun. Starring Denis Lavant, Iggy Pop, Tchécky Karyo, Béatrice Dalle, Natacha Régnier.
7 out of 10