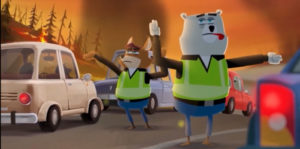 The Canadian animated short documentary, Back Home Again, is a well-executed family-friendly film that speaks to the heart of what community is all about in times of tragedy and danger. The anthropomorphic nature of Michael Mankowski's film, with its star-studded Canadian actors and actresses, holds your attention to provide insight and education on resiliency for what was an enormous crisis. In the history of Canadian wildfire evacuations, the Fort McMurray Wood Buffalo wildfire forced 80,000 residents from their homes in 2016. Many lost everything they had, and the community had to be rebuilt.
This doc is a reminder that the power of film, storytelling, and a creative vision can provide meaning and purpose. Writer and director Mankowski creates a feature news story as an animated film. He based the subjects on the woodland creatures that inhabit the Fort McMurray Wood Buffalo forest, who were displaced and now need to rebuild their forest homes and lives. Through the eyes of many animals, from buffalo and turtles to ducks, rabbits, bears, and owls, the filmmaker's version of this life-changing natural disaster is another platform of understanding and sensitivity different from the human one.
On the animal level, the wildfire is referred to as "The Beast." And as everyone recovers from adversity, they also feel for those unable to survive, mixing solemn voices and emotion with those who are forging ahead and rebuilding. There is not one lost animated scene or design to reveal the fire, those fighting it, or those displaced. The beautiful animation covers it all with an excellent layer of sound effects to match. Every element of a wildfire tragedy, which many in the U.S. West know about, exists in Back Home Again, only it's easier to handle due to the animal perspective.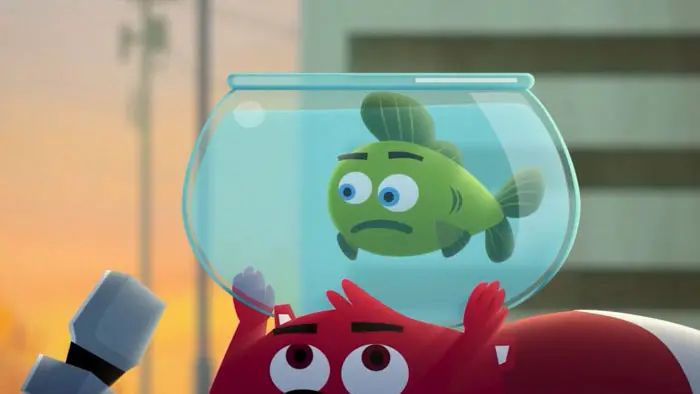 "…the Fort McMurray Wood Buffalo wildfire forced 80,000 residents from their homes…"
The guest list of Canadian star voices matched with forest creatures included Jeremy Renner, Martin Short, Kim Basinger, Eugene Levy, Catherine O'Hara, Michael J. Fox, Howie Mandel, Ed Asner, Lorne Cardinal, Gordon Pinsent, Mena Suvari, Bill Burr, Tom Green, Norm Macdonald, Harland Williams, Sherri Shepherd, Marlon Wayans, Scott Thompson, and Tantoo Cardinal.
With the talent of animation director Mark Dippé, and composers and songwriter Walter Afanasieff, who wrote the score, the short film has a great deal of polish. In addition, Justin Trudeau, Prime Minister of Canada, also appears as a woodland creature. Whether it's Bill Burr as a porcupine or Harland Williams as a fish in a bowl that must be carried around, the comedy pulls you in, especially from Grandpaws, an old cat voiced by Norm Macdonald. However, the big and serious voice of Ed Asner, as a television news anchor who happens to be a lion, is as chilling as a human who says the fire's cause was most likely a human, "go figure."
For those who need healing or must explain a tragedy impossible to understand, Back Home Again can soften the blow of reality. This is especially true since the film ends with clips and images of the actual people of Fort McMurray rebuilding and living back in their homes.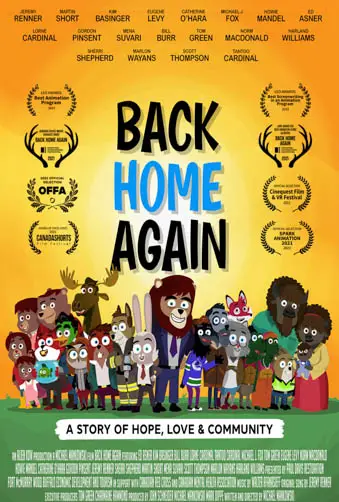 "…the beautiful animation covers it all..."