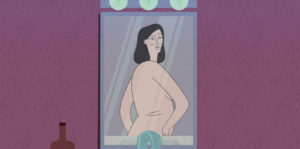 Animation always takes subjects dealing with feminine issues or any human condition that is part of the aging process, to a place where everyone can understand. Hot Flash is a superbly animated short film about a day in the life of a weather woman having to handle a wave of hot flashes. For those who don't know, hot flashes are a symptom of menopause, signaling the end of a woman's reproductive life.
What makes this artistic and funny short, written and directed by Thea Hollatz, so powerful is how relevant and accurate it depicts what it's like to experience hot flashes and to have to deal with life as it comes at you. The lead, Ace (Christine Horne), a weather woman who has to be on the air, makes this even more palpable. It takes the hot flash moment to another level. It's bad enough you have no idea when they are coming. Hollatz uses every angle possible to ensure audiences understand how a hot flash is unbearable and how extreme a woman feels in body temperature. But, unfortunately, there is no climate control for the human body.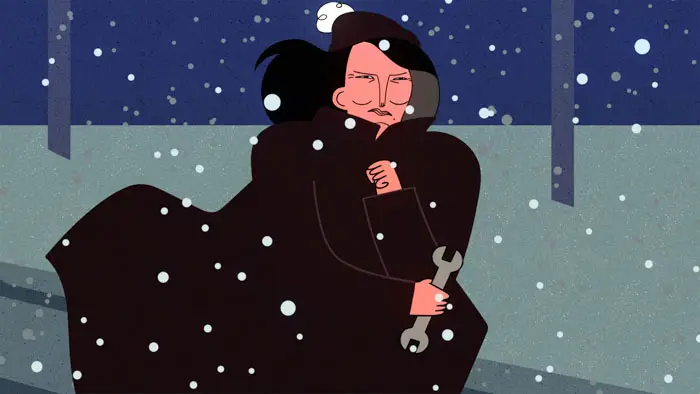 "…a day in the life of a weather woman having to handle a wave of hot flashes."
Adding to this well-constructed story on a topic that only women talk about is the setting. The cold weather, snow, and the forecast of a horrendous blizzard shutting down the hydro lines of the community is Ace's only saving grace. So, you see her naked in the cold because that's what a hot flash can do to women. Another very poignant detail is Hollatz's ability to show a woman and her changing body, in this time of her life, in a natural and age-appropriate state. The filmmaker is sending a message about how acceptable this should be, which is commendable.
The voices, the inflections, and the sound effects are spot-on, as is a parallel weather story on paragliding during a blizzard. The details are right where they should be. From a young assistant's voice and beady eyes to Ace's flattened nose and a utilities worker's dazed reaction when he sees Ace naked out her window in the cold trying to cool down, and he interjects how he loves her weather forecast. Hot Flash is all good humor with insight because menopause is a drag.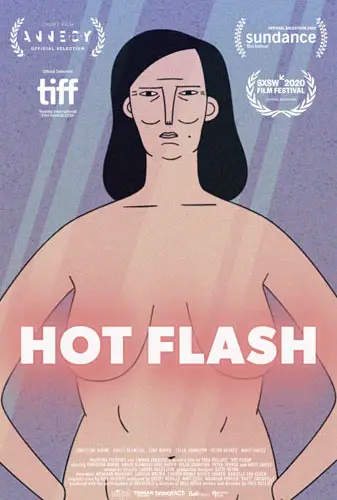 "…good humor with insight..."