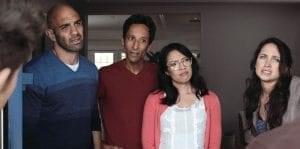 When two couples with mixed feelings about having kids hatch a plan to share one baby, it seems like the perfect compromise-until things spiral out of control.
Tamara Jenkins' tragi-comedy Private Life, which depicts the tribulations of a couple trying to conceive, was recently released by Netflix. Babysplitters presents another, lighter and funnier take on a similar subject. Writer/director Sam Friedlander showcases a knack for comedic timing and an inability to trim…at two hours. His film could've easily left twenty minutes on the chopping room floor. He's saved by an impeccable cast and a charm that coats the sometimes-implausible proceedings in a soothing blanket of affability.
"…they come up with a plan: to 'share' a baby with their best-friend couple…"
Stuck in a dead-end job at a hipster agency, Jeff (Danny Pudi) wants to be an "environmental sculpture artist," hesitant to have a baby prior to achieving his ludicrous dream. His wife Sarah (Emily Chang) convinces him otherwise, yet, due to her low egg count, they come up with a plan: to "share" a baby with their best-friend couple, Taylor (Maiara Walsh) and Don (Eddie Alfano). Finances are an issue, so they "cross-pollinate" the old-fashioned way, with the muscular gym buff Don trying to impregnate Sarah as "clinically" as possible. This leads to jealousy, resentment, reconciliation, and hilarity until the inevitable "happily ever after" conclusion.
Friedlander knows his way around setting up a scene for great comedic pay-off, his film stuffed with moments that range from amusing to hysterical. A droll riff on political correctness at the start of the film, wherein Jeff's being forced into a corner by his team at work, is followed by an eccentric, slo-mo sequence of Jeff being attacked by a flock of children with water blasters. The filmmaker takes a wily stab at nurturing-gone-mad: one of the couples believes in "Collaborative Constructive Permissive Parenting" (or "CCPP"), which basically allows their children to get away with murder. Babysplitters is peppered with spot-on humor, the highlight being the actual prolonged act of conception, with Don and Sarah banging it out in a hotel room, as their partners (im)patiently await.  
"…good performances out of his entire cast, Chang and Pudi are the standouts…"
It's refreshing to see an interracial couple as leads in an indie rom-com, especially given the insightful, eloquently-written exchanges. While the director coaxes good performances out of his entire cast, Chang and Pudi are the standouts; totally realistic as the central couple. Known for his weirdo Abed on TV's Community, Pudi in particular displays a surprising range here. Jeremy Sisto-lookalike Brian Thomas Smith deserves special mention as the goofy gynecologist Dr. Palmer.  
Whether it's a conversation about triple-earlobes or a private confession to a therapist, Babysplitters gets its comedy right. Go with the somewhat far-fetched concept, get past the overt sentimentality, and you'll find a true crowd-pleaser. Full of warmth, insight and just enough bite to keep you on edge, Babysplitters will have your sides splitting with laughter.
Babysplitters (2019) Written and Directed by Sam Friedlander. Starring Maiara Walsh, Danny Pudi, Mark Feuerstein, Emily Chang. Babysplitters screened at the 2019 Newport Beach Film Festival.
7 out of 10