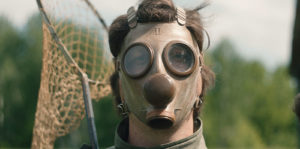 August Leo makes his feature-length debut as writer and director with the Prohibition-set thriller Attack Of The Flies. Henry (Kyle Dal Santo) is an alcoholic who pays for his illegal elixir by being a butcher. Jones (Peter Knox), the bootlegger fulfilling Henry's needs, delivers some bad news. He is ending his operations out of fear of being caught by the government. Henry thinks Jones is joking at first.
All the while, Henry's long-suffering wife, Elizabeth (Jet Jandreau), is trying to figure out the best way of dealing with everything. Henry is mean when drunk but worse when sober. So, to cope, Elizabeth cuts herself, which helps fulfill her sexually. Elizabeth and Henry's life gets even more complicated when a group of scientists shows up on their stoop. They are studying the horde of flies overrunning farms in the area.
One day while shopping, Elizabeth meets the young, new father, James (Marlon Morton). Sensing an attraction and seeing a strong body to help with the livestock, she convinces Henry to hire him. However, Henry begins to hear the buzzing of the flies, which drives him to act even more erratically than usual. Are the flies harbingers of doom? Will Elizabeth and James act upon their sexual tension? Can Henry be saved, or is it too late for him?
Attack Of The Flies is really Elizabeth's story. Leo uses the 1920s era to explore a woman's need to discover herself and understand what she wants. The backdrop of the flies wreaking havoc over the county provides an interesting parallel to what's happening in the microcosm that is the butcher's farm. Well, that is, if the flies are real and not just imagined, as Henry's grasp of reality is slipping even further.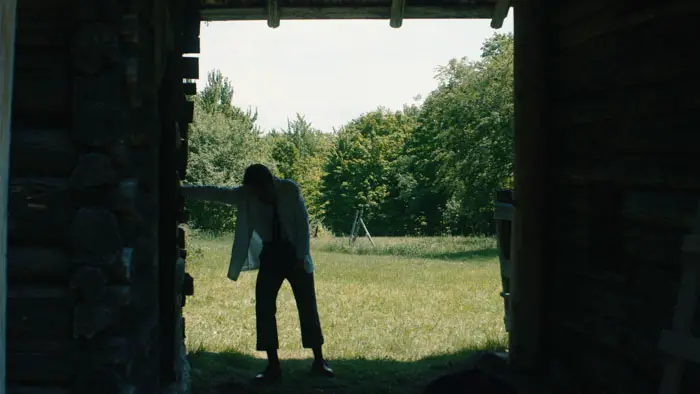 "…Henry's long-suffering wife, Elizabeth, is trying to figure out the best way of dealing with everything."
Dal Santo is perfect as the alcoholic butcher. The actor has to tightrope-walk between being off-putting and still soft enough to compel viewers to want to see what'll happen to Henry. He masterfully pulls it off, being both vile and sympathetic. Knox is hilarious and makes the most of his comparatively brief role. Morton is strikingly handsome and shares lovely chemistry with the lead actress.
Speaking of, Jandreau is spellbinding from beginning to end. She has to be fearful, alluring, and sweet. The actor never loses the audience, even when Elizabeth considers infidelity. It's a remarkable part that requires Jandreau to bare it all, both physically and emotionally. In doing so, she grabs the audience's attention for the entire 114-minute runtime.
Sophie Bruza's black-and-white cinematography is beautifully eerie. It captures the odd, slightly creepy atmosphere of Attack Of The Flies while still being visually striking. The editing by Leo and Evan Hansen is also stellar. No scene goes on too long, while each moment builds on what came before to add genuine thrills and chills to the proceedings.
Attack Of The Flies is a compelling look at how a woman fights to break free from the confines holding her back. The cast is exceptional, and the cinematography adds atmosphere to every scene. While the nature of the titular flies is a little too ambiguous to make total sense, that is hardly a real issue when the feature is this good.