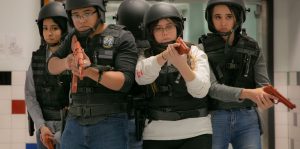 The El Paso police department is often regarded as one of the best in the country, but how do they consistently develop strong, able individuals to protect the citizens of their city? The United States Border Patrol is often looked down on as they appear to many as the enemy, starving Mexican (and other) citizens of the ability to enter the United States and make a life for themselves and their families. So, why do people continue to sign up for this profession and deal with the constant nagging, critiquing, etc.? The answer to both of these questions is answered in writer-director Maisie Crow's At the Ready.
Maybe for the first time, the world can see how young minds are molded into someone ready to fight for their country. This is because, at Horizon High School in El Paso, Texas, students train to become law enforcement officers in the hopes of making a positive difference in their communities and neighborhoods. However, this group of teenagers learns that navigating high school can be a challenge.
The students focused on are Kassy, Cesar, and Christa, who are mature beyond their years. They have a way of accurately conveying their thoughts and emotions. You always run the risk of testimonials and emotional outbursts being skewed in a documentary centering on children. However, the reality is that each of them has a genuine understanding of who they are and their community. It's refreshing to see such mature youth on the rise through the justice system, and their presence in At the Ready is sure to entertain and enthrall viewers from beginning to end.
"…at Horizon High School in El Paso, Texas, students train to become law enforcement officers…"
Politics and race can be used to divide us. It can often cause difficulties for viewers throughout media of all kinds as the content present regarding these ideas can be polarizing. Crow begins her film by swiftly introducing former presidents Barack Obama and Donald Trump via archived recordings to express their thoughts on the issues at the U.S./Mexican border. Involving both men appears to set the tone and express to viewers that there would be no attempt to sway your opinion on politics or race, and the first half plays out in such an even fashion.
However, something dreadful occurs, and the filmmaker prominently weaves footage of Beto O'Rourke into the fabric of At the Ready. With this turn, Crow and the students involved begin expressing their political opinions openly and aggressively. The notion that this documentary would remain neutral went out the window, and the opinions of the cast and crew are made clear. Even with such a (potentially) polarizing switch in the narrative, the documentary remains informative, entertaining, and full of life.
Being from a family full of police officers, it warmed my heart to know that teens and young adults out there are passionate about joining a law enforcement agency and becoming part of this important group of people whose primary goal is to keep citizens safe. Crow and her crew accurately capture everyone's emotions throughout and refuse to pull any punches along the way. At the Ready is honest, even in the moments when it becomes frustrating. Honestly, though, that's all anyone can ask for in a film of this nature; Crow's documentary shines brightly as a result of that honesty.
At The Ready screened at the 2021 Lighthouse International Film Festival.