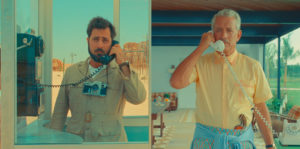 Named for a fictional town from an imaginary play, Asteroid City marks writer-director Wes Anderson's first film of 2023, with a second to be released on Netflix in the fall. The movie features an all-star cast featuring new and familiar faces to the Anderson troupe of collaborators. Familiar names don't just stop at the cast, as Roman Coppola co-wrote this, and they previously penned Moonrise Kingdom, Isle of Dogs, and The French Dispatch together. However, despite all talk of familiarity, Asteroid City is far from the typical Hollywood fare and even a little outside of the Anderson norm, if there is such a thing.
Anderson and Coppola's most meta work yet, the film opens with Bryan Cranston as the host of a television broadcast, opining on what audiences will see. He proclaims to take us behind the scenes of what it takes to mount a successful play. The play in question is fictional, created for this program, and is titled "Asteroid City" written by Conrad Earp (Edward Norton). The host discusses the writing process of the production and how this program seeks to highlight not just the play itself but the personalities that brought it to the stage.
"…this program seeks to highlight not just the play itself but the personalities that brought it to the stage."
Quickly Asteroid City cuts to American Southwest in 1955, wonderfully colorized and complete with painted backdrops of the open range. August "Augie" Steenbeck (Jason Schwartzman) has become recently widowed, about three weeks before the start of our story, though he has yet to tell his four children. Augie's eldest son Woodrow (Jake Ryan), is receiving an award as a Junior Stargazer; Woodrow's recognition (and a broken-down car) has brought the family to Asteroid City, home of a massive crater and speculation about life beyond the stars.
The Junior Stargazing honors bring an eccentric group of tourists to the small town. Among them are star Midge Campbell (Scarlett Johansson) and her teenage daughter Dinah (Grace Edwards). Steve Carrell is the motel manager, and Tilda Swinton plays the scientist in charge of the stargazing event. Tom Hanks, Matt Dillon, Liev Schreiber, Jeffrey Wright, and Maya Hawke round out the rest of the Asteroid City residents and tourists.
Adrian Brody, Margot Robbie, Jeff Goldblum, and Willem Dafoe are members of the theatrical community, directly or indirectly involved in bringing the fictional play to life. Their black-and-white interludes are full of musings on creativity and the nature of storytelling. Both the meta television production, the play, and the events of Asteroid City, the town, run parallel as a weekend of awards sharply turns into a life-altering mystery of our solar system.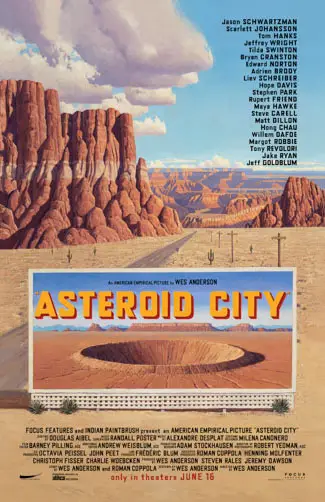 "…doesn't matter, just keep telling the story."