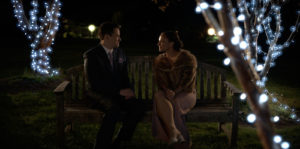 NOW IN THEATERS! A dating rom-com based on the pleasure of dancing, Ask Me to Dance is a simple yet enjoyable film about finding love. Director-producer-writer-star Tom Malloy lays out a timeline for what's to come at the get-go.
The film opens with Jill (Briana Evigan) and her friend, Patrick (Mario Cantone), dancing. They are looking for love, as is Jack (Tom Malloy), who is at the same place alone. On their separate ways home, both Jack and Jill run into the same fortune teller, Madame Cecil (Alison England), and her cat. She tells them they will find love before the year's out. But New Year's Eve is only five days away, though they are both set to attend the same wedding (not that either of them knows that).
How Jack and Jill arrive to find one another is an adventure of dancing, a plethora of mismatched dates, bizarre single people, and the oddities of life that maybe go unnoticed because it is just the way of the world. Jack is divorced and was once a ballroom dance teacher who now works in IT. Jill is an unmarried single woman who works at the same company as Jack, only they never met. Their friends do everything they can to connect them, but it never happens… until it does (this is a rom-com, of course, they get together eventually).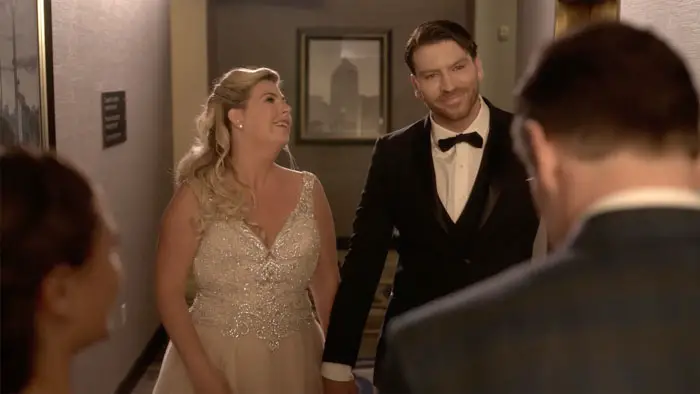 "…they will find love before the year's out. But New Year's Eve is only five days away…"
Some interesting wardrobe choices and set décor keep the low-budgeted Ask Me to Dance from being a dazzling movie. But Malloy keeps it up with his acting, as do Contone and Evigan. Scenes of dancing appear as if they should be more alluring or fantastical, but even at the status quo, they still work to move the film forward. It should be noted that the leads are actually dancers and handled the choreography well, even if it could be more cinematic in its presentation.
What makes this an easy film to watch is how all single men and women have "been there and done that." The film will flood one's memory of bad dates, but it also brings back the joy of dancing and how people can connect in ways we may have forgotten. The idea of finding the "one" is a storyline that never goes out of style; it's just become a little bit more complicated. Yet, as in the case of Jack and Jill, it's in plain sight, which Malloy highlights well enough. He also does not hold back on what makes men and women tick.
All in all, Ask Me to Dance is all fun and pleasant, especially regarding the wedding and those involved. Look for Joyce DeWitt in a brief role as Nana for a blast from the past, as well as a bizarre cameo from wrestling gold medalist and superstar Kurt Angle.