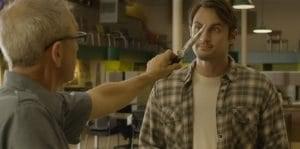 Self-discovery is a journey we all take part in, in one way or another. Whether or not we set out with finding ourselves as a clear target, or we blunder our way to an evolved sense of being, growth, alongside change, is inevitable. There exists varying catalysts for our individual paths of development, some of which can include tragedy, and how we deal with the ensuing pain.
Not much else can impact as profoundly as the death of a loved one, which we see first-hand in Daniel Campbell's comedy Antiquities. A quirky approach to an offbeat tale, Antiquities delivers a touching story of a man who steps into the shoes of his deceased father to learn more about himself. The feature delivers on many fronts; the high points being exemplary performances by a well-rounded cast and inventive methods of tackling tender topics with light-hearted zeal. Where there are such highs, there are swooping lows, however, as the tempo of the story leaves much to be desired.
The sluggish but zany spectacle kicks off with the film's lead character, Walt, a soft-spoken easygoing man played by Andrew J. West. Walt has just moved into the house of his dad's overbearing relatives in a small little town that proudly celebrates the stereotypes of all small little towns. We learn that Walt's beloved father passes away a few months back, but how exactly he dies is not revealed until later on in the story. His father's death prompts Walt to move into his aunt and uncle's home and even start working his dad's old job, in an attempt to feel closer to him.
"His father's death prompts Walt to move into his aunt and uncle…in an attempt to feel closer to him…"
There he meets Ellie (Ashley Greene), a spunky, energetic young woman who, underneath a fast-talking, adventure-loving facade, is struggling through a similar form of grief all on her own. Alongside Ellie, we are introduced to a slew of supporting characters who collectively bring some serious razzle-dazzle to the cinematic experience. We fall in love with each and every one of Walt's coworkers at the antique mall that becomes his new stomping ground.
Michaela Watkins as the batty, perpetually confused Dolores Jr. is bewitching as a stand-alone; Watkins makes you want to demand a spin-off movie solely based on her character. Her on-screen love interest is Delaney (Michael Gladis), a formidable hulking man by stature, who pathologically lies as a way to hide low self-esteem. Other notable employees at the mall include the wonderfully weird Jimmy Lee (Graham Gordy) and a zealous general manager who loves to go on rants about sexual escapades with his older wife, Dewey Ray (Troy Hogan).
Mary Steenburgen also makes an effortless appearance in a few scenes where she personifies Dr. Margot, a self-absorbed therapist. But the real breakaway performance here is the one by Roger Scott. Scott plays the film antagonist Blundale; a categorically unlikeable man who, between verbal assaults on unsuspecting customers and lively show-downs with Walt, steals away the limelight in every scene he is present in.
This film is a strange concoction that, based on its ingredients, should taste like an exquisitely cool drink on a swelteringly hot summer's day. Except, when you sip it, you end up discovering the ice cubes are far and few in between, and the overall sensation is only mildly refreshing.
"…an emotionally truthful script about the inevitability of growth through personal pain."
While all the right things are in place to make for a one-of-a-kind movie, the content doesn't entice or enrapture you until the last twenty minutes rolls around. What is missing for the first two-thirds of the flick is an indication that the plot will eventually go somewhere. We get that reassurance towards the end when a series of events – that really could have been set off much earlier in the storyline – forces the protagonist to take control of his future.  
Put quite candidly, the most redeeming quality of this feature is the extensive character development Antiquities allows for every cast member. This is no small feat on its own, and deserving of much applause; not only for the skilled actors showcased but for director Campbell and co-writer Graham Gordy. The movie boasts an emotionally truthful script which makes a point to communicate the inevitability of growth through personal pain.
Lamentably, without the talent demonstrated in this film, the narrative of Antiquities wouldn't hold up on its own. A sweet, wistful piece, it is difficult to ignore the agonizingly slow way it gets to its main point – forgiven only because of a strong ensemble that adds considerable weight to the picture.
Antiquities (2018) Directed by Daniel Campbell. Written by Daniel Campbell and Graham Gordy. Starring: Andrew J. West, Ashley Greene, Michael Watkins, Michael Gladis, Graham Gordy, Troy Hogan, Roger Scott. Antiquities premiered at the 2018 Dances With Films.
7.5 out of 10