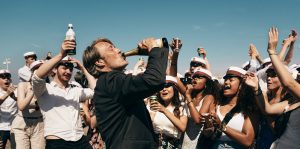 Another Round touches upon the perception of alcoholic beverages used as a social lubricant, the hypocrisy of ordering certain drinks to show social status, and wearing the badge of honor of being able to hold the hardest liquors (just like one would show manliness by eating the most peppery pepper or some other nonsense). But what was most clever and interesting was how, in one delightful scene, Vinterberg denounces the association with powerful men (well, it's almost always them) doing "great" things throughout history uninhibited "thanks" to the booze or something else.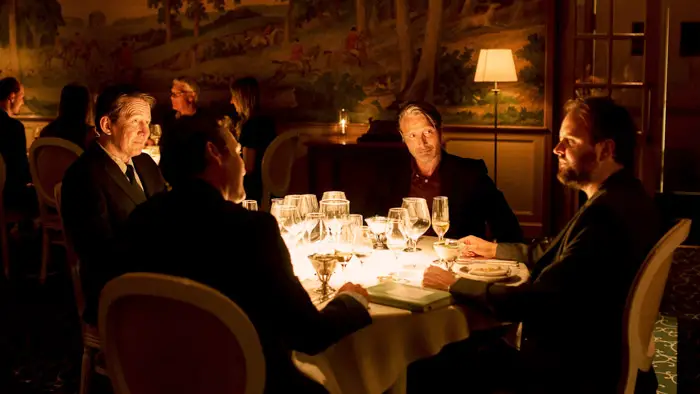 "Mikkelsen is at his best…"
Somehow, it feels the film should have kept its original title, Druk, as it would make much more sense than Another Round to imply that this is a movie about being drunk (mispronounced as "druk" if you're loaded!) and not so much about buying another round at the bar. Come to think of it that might ultimately be the point the director wanted to make if we consider the movie really is about people realizing that sometimes simply going for that next drink is, in fact, a sign of dependency.
In someone else's hand and with another band of teaching bros, this movie would have still been a compelling one, to be sure, but not as great. But Another Round is one of those transcendent films that mix comedy and drama truly well thanks to a fantastic story and charming, fun, and above all, pitch-perfect performances. Mikkelsen is at his best, but all the actors convey a range of emotions masterfully and share real chemistry. Add in Vinterberg's careful direction of the wry screenplay he wrote alongside Tobias Lindholm, and you have a great dramatic comedy.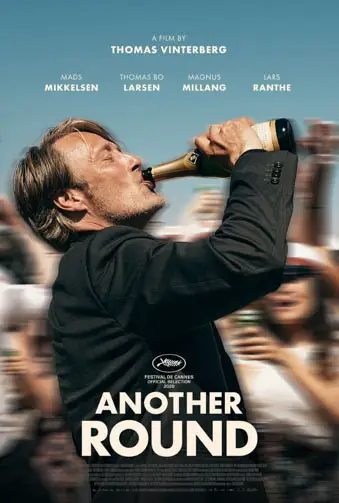 "…touches upon the perception of alcoholic beverages used as a social lubricant..."