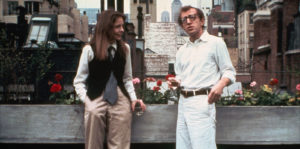 With the Oscars just around the corner, the Film Threat writers review films during a time when the Best Picture was actually the Best Picture.
Whether or not you care for Woody Allen (the proverbial monster versus artist debate), there's no argument that Annie Hall holds its place in movie history. The film was directed and written by Allen and stars Allen and Diane Keaton. Winning four out of five Oscar nominations for Best Picture, Director, Original Screenplay, and Actress at the 50th Academy Awards in 1978 (beating out Star Wars), it remains one of Allen's and Keaton's seminal films.
Allen plays Alvy Singer, a twice-divorced Jewish comedian living in Manhattan, who cannot come to terms with death, sex, anti-Semitism, and all his neuroses. However, things change when Alvy meets Annie Hall (Diane Keaton) through his best friend Rob (Tony Roberts) after playing doubles tennis. Recklessly driving in her convertible Volkswagen bug through New York City begins a trip of mental deconstruction, laughter, ups and downs, and psychoanalysis. The filmmaker also shows his love for New York City and its never-ending rivalry with Los Angeles. Perhaps the constant references to "New York, Jewish, left-wing, liberal, intellectual" could be polarizing, but it is funny here. In the end, none of that matters because only love, in all its stages, does.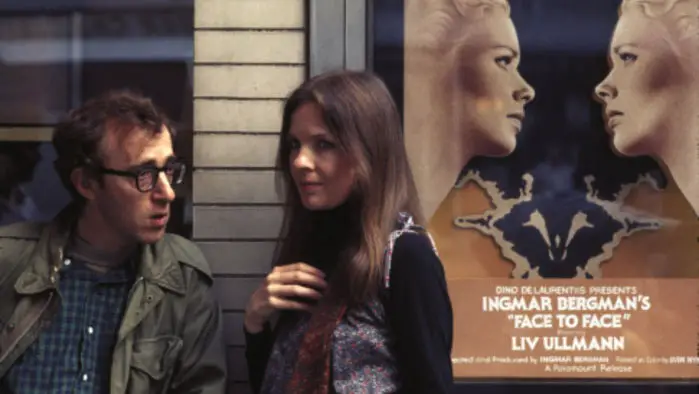 "…things change when Alvy meets Annie Hall…after playing doubles…"
Alvy is a working comedian. He uses Groucho Marx's line, "I would never join a club that would have me as a member." He also says, "I don't want to move to a city where the only cultural advantage is being able to make a right turn on a red light." Allen's hilarious running commentary and flashbacks of growing up as a Jew in the Big Apple living under a roller coaster with mouthy family members are timeless. These moments of endearment move the narrative forward and are just one part of some great screenwriting between Allen and co-writer Marshall Brickman. It's the eternal craftsmanship of this love story that's why it continues to top film lists all these years on. The story's reflection of one's most significant relationship warts and all is authentic. 
Annie Hall provides a point in time that is significant for a changing culture and new thinking on the recreational use of drugs and portraying a single woman making it on her own. Annie is a very independent soul, a spaz, and imperfect — like us all. She not only created a fashion trend with a life beyond the film with her tie, baggy clothes, and hat, she has relationships on her terms even if she's afraid of the spider in the bathtub. Allen's ability to use NYC and LA as characters is a statement on change, from moody and brainy New York City, which Alvy adores, to sunny and wacky Los Angeles, which Annie embraces as a free thinker. She is prepared to change while Alvy is unable and won't, or cannot.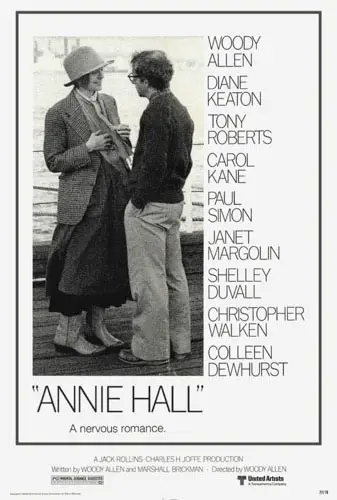 "…really captures what it's like living in New York at that time..."