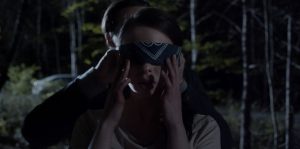 NIGHTSTREAM FILM FESTIVAL 2020 REVIEW! One of the most difficult things a person can experience is the death of a spouse. I'm not married, but I do have a long-term boyfriend, and the thought of losing him is horrifying, which is why I typically don't go there in my mind. However, some pieces of art challenge us to explore our greatest fears. An Unquiet Grave definitely does that.
Jamie (Jacob A. Ware) lost his wife, Julia (or Jules), in a car accident in which he was the driver a year prior to the start of the film. He is visiting his late wife's grave. He is joined there by her twin sister, Ava (Christine Nyland). Ava misses Jules just as much as Jamie does, if not more so, considering the two were twins, and from what I've heard that bond is incomparable to very few others. The brother and sister-in-law talk about Jules and the journey on which they are about to embark. As the two are in the car on the way to their destination, the reasons for going to the woods become clear. Jamie has somehow discovered a way to bring Jules back from the dead, but he needs Ava's help to do it.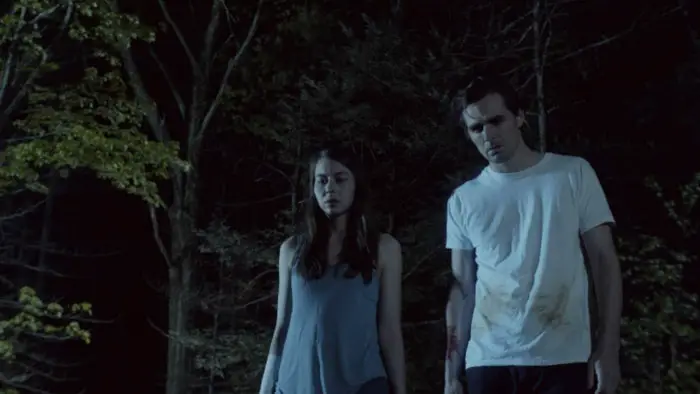 "Jamie has somehow discovered a way to bring Jules back from the dead…"
Any further along in the plot and we get into heavy spoiler territory, so I will stop there. An Unquiet Grave is a great example of an indie horror film that makes the best of the resources available. I would say there's blood in about 2% of the movie, and usually, when talking about raising the dead, there's a lot of resulting carnage. Here there is too, but it is almost 100% emotional. It's also hard for a film to be carried only by two characters. However, it works here. There is palpable tension throughout the film that works hard in lieu of a cavalcade of practical and special effects (although don't get me wrong, there are definitely some practical effects, and they are… effective).
An Unquiet Grave explores the toll that grief takes on all of us and how sometimes we do irreversibly stupid things while we're in its thrall. It's also a great character piece. Ava and Jamie are both handling their grief in significantly different ways, and we get to know them through how they're coping with the death of Jules. It's an interesting approach to this sort of film, especially if you think about a similar movie, such as Pet Sematary, which is decidedly more action-driven. An Unquiet Grave has a slower pace but a deeper emotional core than most films like it. The performances are great, especially from Christine Nyland, who co-wrote the script with director Terence Krey. The two wrote a great script together and created a soulful supernatural drama with a small crew and budget.
Great indie films are our bread and butter here at Film Threat, so An Unquiet Grave fits into our ethos perfectly. If you want to see a movie that explores grief and death with a very unique and interesting twist, watch An Unquiet Grave. I doubt you'll regret it.
An Unquiet Grave screened at the 2020 Nightstream Film Festival.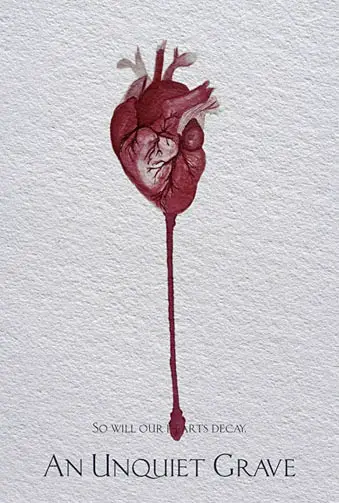 "…explores the toll that grief takes on all of us..."