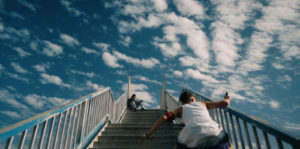 In any event, An Endless Sunday is at its best when the environment takes hold of the narrative. The surroundings swell to a kind of kaleidoscopic majesty, terrorizing the young cast. Thankfully, this is something Parroni and Manenti have an unmatchable flair for. A funfair ride at night looks like Hades, the barker operating it offscreen, mocking the riders for every loving glance or holding hands as they sit trapped spinning. High-speed road trips crackle with endless energy and danger through neon and rain, and the seaside at sunset becomes its own apocalypse, scarlet clouds boiling above a scalding argument on the beach. Most striking of all is the sleazy metal footbridge over a motorway where Alex tells Kevin he's going to be a father. The peeling blue paint and mottled pale steel beneath perfectly mirror the cloudy sky above. It's a beautiful shot any artist would be proud of, and it confirms the director has an astonishing gift for seeking out vibrant imagery seemingly anywhere.
"…has an astonishing gift for seeking out vibrant imagery…"
The chief problem is that these electrifying visuals can feel like the cart leading the horse. Sometimes, the filmmaker orchestrates some stunning staging, with the directing casting spells on the action. However, frequently, one is left wondering how it all joins up. During the first half of the two-hour runtime, things feel aimless. Still, moments are certainly engaging, and the film would be more effective if it were shorter.
An Endless Sunday is an impressive debut, and the leads all deliver their roles perfectly. Bassetti and Valentini are so understated you almost have to hold your breath to watch them. Delmas is so berserk as Kevin that it feels like he is going to rip free of the screen to attack you, like something out of Ringu. Cryptic yet satisfying, this spectacular film is hard to forget, especially in the second half. It comes very much recommended.
An Endless Sunday screened at the 2023 Toronto International Film Festival.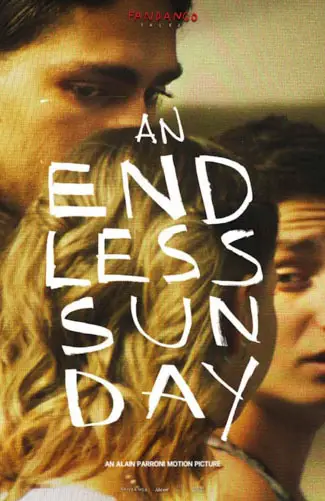 "…cryptic yet satisfying..."