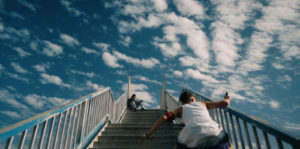 TORONTO INTERNATIONAL FILM FESTIVAL 2023 REVIEW! The images in An Endless Sunday are generally ravishing, dimmed only by the question of what they are actually telling us. As a former fine arts student, it is no surprise director Alain Parroni and director of photography Andrea Benjamin Manenti are no slouch when it comes to photographing this tale about Italian Gen Zs. Is this drama as self-indulgent as it often appears, or is the narrative strung between the visual fireworks more sly and full than first impressions suggest?
Alex (Enrico Bassetti), Brenda (Federica Valentini), and Kevin (Zackari Delmas) are a trio who seem to live in limbo. They endlessly hang out, using a hot hatchback, motorbikes, and trains to bounce between their crappy coastal suburb and the center of Rome. Alex, Brenda, and Kevin don't seem to belong anywhere. No parents exist. The only guidance is from Brenda's superstitious grandma. Their phones beep and trill, and the soundtrack is littered with voice messages. Everywhere they go, digital media is there like strange weather, such as when they hide out behind a giant video screen at Saint Peter's. The only authority, it seems, is that of Apple and Samsung, a remote and oppressive occupying force in their young lives.
"…Brenda nervously fends off her boyfriend Alex's pawing by revealing she is pregnant."
While in Rome, Brenda nervously fends off her boyfriend Alex's pawing by revealing she is pregnant. Alex immediately says he'll get a job. They joke about how much better it is to be young, pretty parents than "old fucks," and it feels like the two of them have a chance at something with meaning. Circling these young lovers and inseparable from them is Kevin, wild and unlovely, stealing everything he sees and vandalizing anything left. He feels like the only real energy source next to the otherwise torpid duo.
There are times in An Endless Sunday when you wonder if it is open mockery. The kids loiter under a giant cloud of scaffolding, strikingly like the set of Fellini's 8 1/2. Their tower block, stranded in dusty emptiness, mirrors Bicycle Thieves, and then we get a helicopter ride over Rome, which can't help but recall La Dolce Vita. It feels like Parroni is conjuring these totems in reverse, perhaps to drive home how disintegrated the home of his protagonists is, moving forever backward against the tide of the greater world. Or maybe it's ego, or I'm imagining it all. It's hard to say.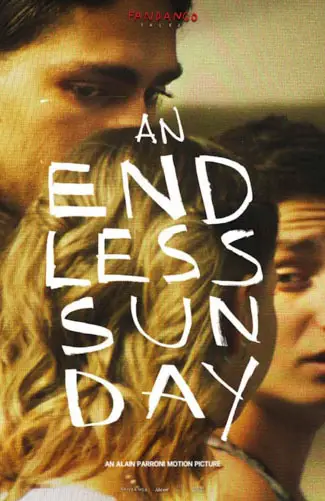 "…cryptic yet satisfying..."