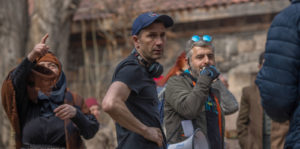 In Amerikatsi, it's 1947, and an Armenian-American repatriates to Armenia only to end up in a Soviet prison. Hopeless and alone, he discovers he can see into a nearby apartment from his cell window, where a native Armenian man, unaware that he is being watched, slowly reveals the soul of Armenia hidden behind the iron curtain.
We spoke with Amerikatsi writer/director/star Michael Goorjian about making a modern Armenian tale, the resurgence of Armenian stories, and shooting during COVID in Armenia.
Tell me about the history leading up to the making Amerikatsi.
Back in the 90s, I was fortunate enough to act in a lot of great independent films — Leaving Las Vegas, SLC Punk, and the Invisibles. It was kind of a golden age of indie cinema in the U.S. There were a lot more risks being taken back then. Not every film had to be derivative—based on some prior work, and not every script had to "take on" a current social or political issue. Good stories got financed for being good stories. So in early 2018, after spending the past decade struggling to get various "good stories" financed in the U.S., instead of getting bitter and giving up, I got more thrifty and thought – "why not try making a foreign film?"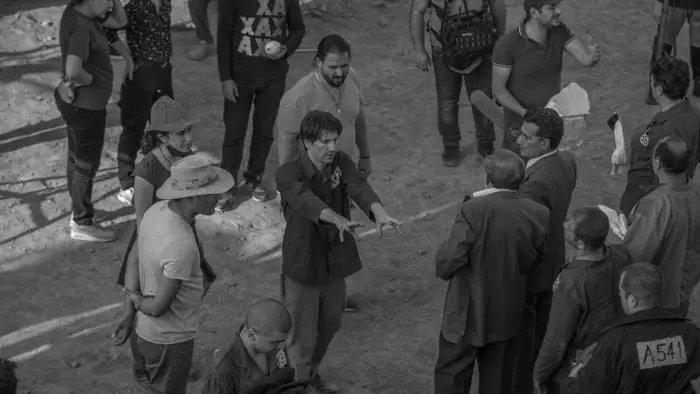 "The sense of hopefulness in the country was incredible to watch online, and as an Armenian, I found myself longing to be there…"
At the time, Armenia, a post-Soviet country struggling with corruption, had just gone through a "velvet revolution." The sense of hopefulness in the country was incredible to watch online, and as an Armenian, I found myself longing to be there— to go back to the "homeland." Two years later, in January 2020,  I found myself on an 18-hour flight to Armenia to start shooting Amerikatsi.
Despite the many challenges involved in making a film like this — a period piece in three languages, shot in Armenia during a pandemic! —  despite all that and more, Amerikatsi is by far the most meaningful creative project I've worked on to date.
Tell me about the story of your lead character, Charlie. Was he a real person?
Charlie is not based on anyone specifically. Instead, there are many real-life details woven into the character, including some details related to grandfather, who had escaped the Armenian Genocide as a. Overallverall, Charlie is purposefully fictional. In fact, I would say that Charlie is the kind of character that has been missing from cinema recently — a 'Holy Fool.' A bit like Chancey Gardner from Being There, Charlie is a reminder that humanity will always exist despite how absurd the world has become. As an actor, I would say that Charlie is by far the most important role I've ever played. If I'm remembered for anything, I'd be more than happy to hand my name on this one.
Only recently have I seen documentaries and films about Armenia and the Armenian Genocide. Why do you think it's taken until now to get the stories out into the open?
You're right, there have not been many films related to Armenia over the years, and the few that have seen the light of day have, for the most part, been about the Armenian Genocide. For me, I wanted to make an Armenian film that had a chance at crossing over, which is why Amerikatsi is, at its core, a very simple human story. Yes, it takes place in Armenia, and characters are speaking in Armenian, and you're exposed to Armenian music, culture, and history. But that is all secondary to the real story, which is about a prisoner who can see from his cell window into an apartment building where another man lives. It is a simple fable that could really almost take place anywhere.
Can you talk about your experience filming Amerikatsi and your team that helped you bring it to life?
Besides myself, my cinematographer, and our first A.C., our entire crew was from Armenia. The majority of the cast was also local Armenians, with only a few actors coming in from Russia and Spain. And despite the many challenges we faced, it was the most rewarding experience shooting a film I've ever had. You can feel how much love was put into the film by everyone involved. Everyone's fingerprints are there. There was a sense of creative freedom that is hard to find in places where filmmaking has become over-institutionalized.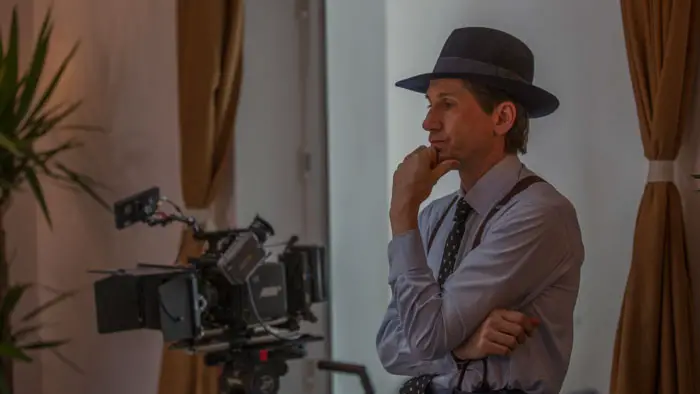 "…you're exposed to Armenian music, culture, and history. But that is all secondary to the real story…"
What were the challenges in bringing Amerikatsi to the big screen?
We started principal photography in March 2020. A week into shooting, we were forced to shut down due to the pandemic. Our actors from Russia and Spain had to fly home. Everyone was in lockdown, and we didn't really know if we'd ever get to finish the film. Not only that, because of the travel ban, I was separated from my wife and son, who were on the opposite side of the globe in San Francisco. After three months, we were finally allowed to continue shooting, but just a few scenes that could be done with a very limited cast and crew. Arriving on set that day, everyone was just so happy. To get to see other people — but more importantly, to get to work again. I'll never forget that day. Over the next three months, we slowly pecked away at the shoot, eventually getting our actors back into the country and completing everything. Of course, then a war with Azerbaijan broke out, but that's a whole nother story.

What were some of the themes you wanted to address in Amerikatsi?
There are many themes in the film related to connecting with one's roots, identity, etc. But I think the most important theme to me has to do with voyeurism. Much of the film is about one character who is in prison watching another character who is free, at least technically speaking.

What is your favorite scene in the movie?
My favorite scene in the film would have to be when Charlie is at his cell window watching Tigran in the apartment, trying to win back his wife. There is a point when things aren't going so well for Tigran, and then suddenly, he remembers that he's being watched, and slowly he looks up to Charlie across the way in his prison. Of course, I'm biased, but for me, at least, it is a truly iconic moment.

Where is Amerikatsi available for our readers to see it?
We are currently on the festival circuit, so please follow us on social media, and you can learn about where we'll be next!
https://www.facebook.com/Amerikatsi
https://www.instagram.com/amerikatsi_movie/