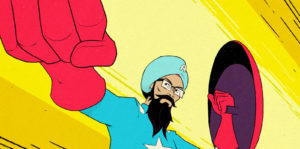 TRIBECA FILM FESTIVAL 2023 REVIEW! In American Sikh, co-directors Vishavjit Singh and Ryan Westra, who also wrote the film, present a highly creative animated short film. The plot centers on a Sikh American man (Vishavjit Singh) who becomes Captain America to gain acceptance and fight hatred and prejudice. He does all this in the hopes of breaking past societal intolerance.
Using animation and archival footage while narrating the character's story, the film is imaginative and profound. The filmmakers examine why Sikhs wear turbans and explore their faith, which believes in timeless and formless energy that binds all human beings and connects with that energy. It is all presented in an extremely interesting and well-explained manner.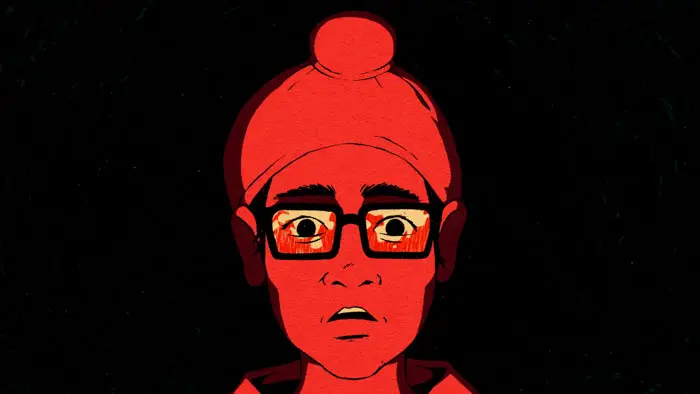 "…a Sikh American man who becomes Captain America to gain acceptance and fight hatred…"
With excellent illustrations from varying monotones to highly colorful sequences, American Sikh is a short that overflows with information, emotion, and understanding. That's not to mention the great design and execution of the animation, plus a fantastic soundtrack. Its simple but purposeful style is very entertaining while teaching essential truths about stereotyping and false presumptions. Underlying interests about identity and awareness are masterfully treated in form and structure while seamlessly associating with common humanity issues as "the film is dedicated to every American who's ever felt unwelcome or unwanted."
Perhaps, most impressive is American Sikh using a superhero to connect and break past everyone's xenophobia. It is not just awesome—it's brilliant. I can only imagine the amount of authentic humor and creativity that pours out of Singh and Westra daily. Hopefully, there is much more to come.
American Sikh will screen at the 2023 Tribeca Film Festival.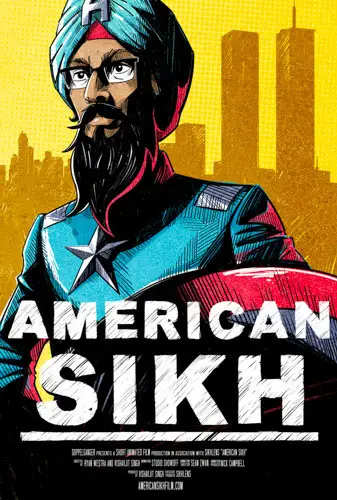 "…not just awesome; it's brilliant."