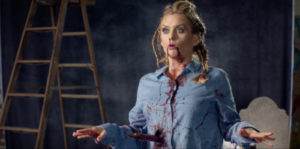 They always tell you in film school to "write what you know." Writer and star of American Reject, Kathleen Elizabeth Monteleone did just that by lampooning her real-life experience on NBC's reality competition Grease: You're the One That I Want, to some pretty funny results. In the film, directed by Marlo Hunter, Monteleone plays Kay, who is humiliated on an American Idol-type show in the opening scene. Kay has a Janet Jackson-like "wardrobe malfunction" right before she's unceremoniously kicked off the singing series on which Billy Ray Cyrus is a judge, leading to a series of embarrassing events due to her newfound notoriety.
Kay is then forced to move back to her small hometown and live with her mother, Bonnie (Connie Ray), due to not having an apartment anymore because she thought she would win the competition (the show staff laughs at her for this assumption). The producers told Kay to do so for the sake of good television, as the production crew follows around the losers for an after-show. Both Kay's mom and hometown folks further send her down a rabbit hole of degradation, which ends up making for popular viewing, much to Kay's dismay.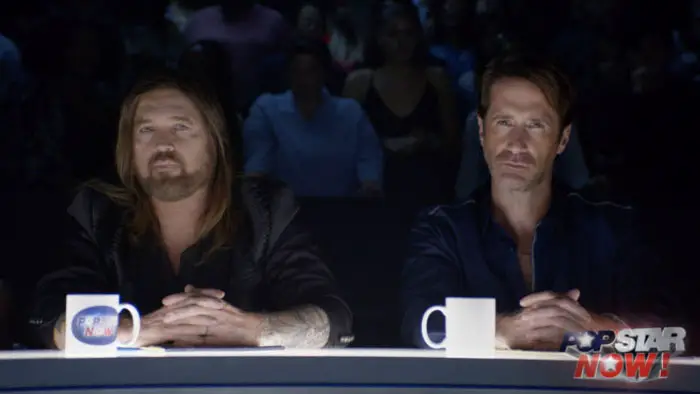 "…Kay has a Janet Jackson-like 'wardrobe malfunction' right before she's unceremoniously kicked off the singing series…"
Reality singing competitions are a perfect target to make fun of because of how serious they often take themselves and how humiliating and anxiety-ridden they can actually be for the contestants. American Reject plays up these absurd game show elements by amplifying them, which is exactly what a good comedy should do. While it might be too cheesy or over the top for some, it worked for me. I was amused throughout because of the performances, as well as the funny reality show and fame-related observations that shined through Monteleone's writing. Hunter also does a fine job of not letting the film slip too far into parody while imbuing it with just enough heart to make for a feel-good finish.
Monteleone reminds me of the former SNL comedian Amy Poehler, with her similar look, exaggerated mannerisms, and quick comedic timing. Annaleigh Ashford (who was fabulous in Masters of Sex) is great as Kay's former best friend Nano, who has a bone to pick with Kay for forgetting their friendship and her roots. The entire cast is good at bringing the funny, but Angelica Hale standouts as the young Anna. She looks up to Kay, and in real life they have something in common because Hale was a contestant on America's Got Talent. Hale can act, and in a rousing moment, she gets to show off her amazing voice as well.
At the end of American Reject, Kay has to make a critical choice between fame and a group of people who she cares about. While this is usually pretty cliché, Monteleone makes the decision interesting and original. I look forward to seeing where both she and Hale go from here.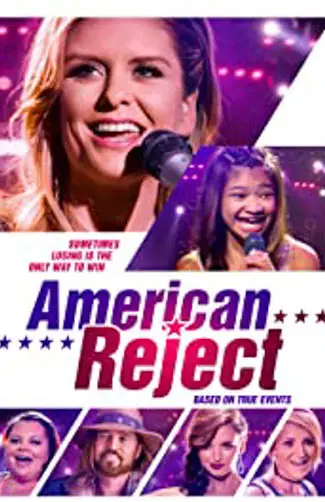 "…Angelica Hale standouts..."