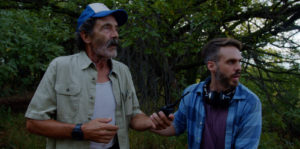 After a guest kills himself on his livestream, a disgraced podcaster finds himself in a personal and deadly hell in Alex and Todd Greenlee's thriller, All Eyes. Allen (Jasper Hammer) has basically given up on life after the downfall of his popular podcast, USSane, which spotlighted the freaks of the world. His agent wants him to lay low for a while before coming back, but Allen would rather sulk and drink forever.
In his lowest moment, a letter arrives from an old man named Don (Ben Hall). Though Don never cared for Allen's show, his recently deceased wife, Jane, was a massive fan. As a last dying wish, she wanted Allen to accompany Don on a monster hunt of a lifetime. Apparently, a "thousand-eyed beast" has been terrorizing Don's farm, and now he is ready to take down the creature once and for all. It was Jane's wish and personal thank you to Allen that he captured and kill it for his podcast.
All Eyes is essentially split into two stories. The first is the budding friendship between Allen and Don. Their relationship starts icy from the get-go. Don resents his obligation to Allen, viewing him as an outsider and a nuisance. Meanwhile, Allen sees Don as an eccentric old man using elaborate electronics and contraptions to hunt down a non-existent legend. Over time, Allen discovers that Don deeply loved Jane and went to extraordinary lengths to protect her from the beast, which is all set up for the final act.
In part one, Allen learns of the lore of the beast. Then, when outsiders arrive to question Don, Allen discovers that Don has booby-trapped the farm, which doesn't work out so well for the intruders. Allen is scared and wants to leave, but he can't until morning, and suddenly he's trapped in a house that now wants to kill him.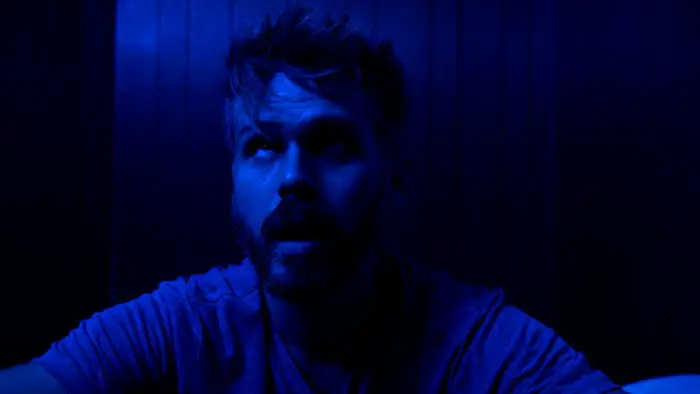 "…Allen discovers that Don has booby-trapped the farm…"
To me, All Eyes is about that final act. The setup is quite long, ending around the fifty-minute mark. It's all about building sympathy for Allen and Don while sprinkling hints about the beast and the booby traps. Nevertheless, it's worth sticking around for the finale, drastically changing the tone to a violent, mechanical funhouse.
The film gets real violent, real fast. For a low-budget indie, it's bloody, gory, and no one comes out unscathed — a masochist's dream. The deadly traps are quite clever, with some being elaborate while others are just insane. Storywise, the action is relentless, but there is logic to its progression. Now accent it with quiet moments where the pair find cryptic letters from Jane, and you get an absorbing film.
Filmmakers Alex and Todd Greenlee correct a problem I find with violent thrillers. In other films, someone is stabbed or shot, and they're miraculously healed seconds later. Here, when one of the heroes is injured, they stay injured, affecting their movements and weakening their ability to survive.
Though I found the story about the mutual admiration society between Don and Allen worth watching, the fun of All Eyes is the exciting and thrilling second half about a farmhouse full of booby traps. More boobies, less hugging.
For more information about All Eyes, visit the Home Front Pictures official website.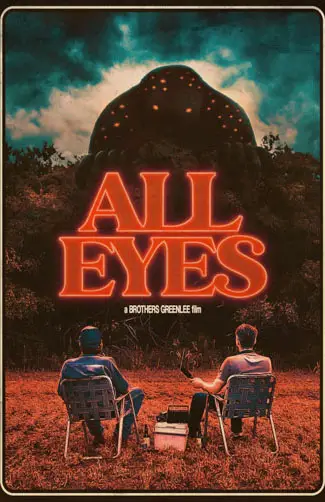 "…correct[s] a problem I find with violent thrillers."