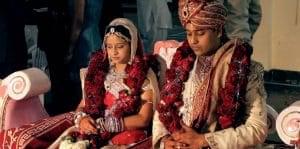 Think of your definition of hell on earth, and if it involves your parents picking out a mate for you, you'll have a lot to cringe about while watching A Suitable Girl. The documentary follows three women living in India, Dipti, Amrita and Ritu. They're all in the age range where the pressure is on to get hitched, and what pressure it is. The oldest of the three, Dipti, is having her 30th birthday, and the others are younger but not all that far behind. There's no escaping the constant drumbeat of none-too-subtle hints that time's a-wastin' and the window of opportunity is about to close.
Part of the reason why there's no escape for these three is that, like most Indian women, they're living with their parents, and will continue to do so until they're married. Then they'll move in with their in-laws and live in matrimonial bliss, we suppose, 'til kingdom come.
Each of the trio of women comes from a comfortably middle class, if not wealthy, family and are willing, if not with the greatest enthusiasm, to follow their parents' directives and find good husband material.
The film seems to be a clear-eyed, unbiased look at the customs and mores of marriage and families of a certain caste. There's no voice-over narration, only the subjects of the film interacting with each other and occasionally talking to the camera, presumably answering an off-screen interviewer's questions. There appears to be little heavy-handed manipulation by the filmmakers, and the story emerges through the editing of footage that took three to four years to capture. The cameras come into the women's homes and record what would be considered fairly personal exchanges between family member, as well as with guys who are searching for brides. The tension among all involved is palpable.
"…women are judged as good marriage material based on looks, and men are deemed a good catch depending on…money…"
One of the women and her parents pore over newspaper classified ads taken out by eligible bachelors, while others use Internet matchmaking sites or attend events at the local community center for marriage minded folk to meet up and try to find a spouse. Of course, the parents attend with their daughters and help them separate the wheat from the chaff. It seems a little like a corporate networking event, where people stand up and introduce themselves and pitch a business plan to potential financial backers. To the casual observer, the experience seems devoid of romance, but those involved here seem to see these efforts as families and the community showing support. The event we witness doesn't yield the positive results that one of the women and her parents were hoping for, but they seem far from discouraged. As tradition dictates, they must continue on in this quest.
While accepting of the notion that they must get married, the three women express various levels concern that they will be giving up so much of themselves. Those who are interested in business and furthering their education are often discouraged from doing so. In addition, moving in with their in-laws can mean living far away from their families, and seeing them infrequently. In general, women seem to give up a lot more than men do.
Ritu, who studied finance and is employed at Ernst & Young, wants to stay career-focused despite heavy pressure from her mother, a professional matchmaker, to follow the more traditional path. Amrita's husband promised that she could work at his firm, but that doesn't come to pass. Dipti, employed as a school teacher, feels the pressure of finding a husband before it's too late. Among her friends, she's the only one still unmarried.
"…an honest look at a world that might be quite foreign to many of us…"
In general, women are judged as good marriage material based on looks, and men are deemed a good catch depending on how much money they will bring to the table.
While the women would seem to get a bit of a raw deal in these arranged marriages, the guys have their misgivings, too. One of the young men sums up his experience with the culture's marriage traditions when he admits that the culture requires that he wed, and his parents would not allow otherwise. His ideal, he says, is being reborn European and marrying sometime after age 40, if not to his fiancee, then to someone else. His fiancee is sitting by his side when he makes these admissions, and looks none too thrilled.
To the Western eye, this systematic approach to marriage may seem Medieval, but as an outside observer, it's probably not possible to take in all of the subtleties of the give and take between families and their offspring in this situation. The film gives what seems like an honest look at a world that might be quite foreign to many of us, and it's a fascinating slice of life to observe.
A Suitable Girl (2017) Directed by Sarita Khurana, Smriti Mundhra. Written by Sarita Khurana and Smriti Mundhra.
8.5 out of 10