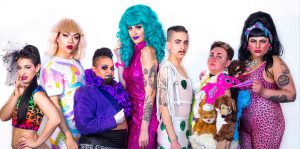 Pull back the curtain and have a peek in on Brooklyn's colorfully energetic Switch N' Play, an award-winning collective performing drag & burlesque in director Cody Stickels' extravagant documentary A Night at Switch N' Play. 
Their innovative fusion of drag and burlesque is a paradigm shift, challenging hetero-normative culture (really anything-normative, there is no normal; the concept is null). 
The host of the show is "Femcee" Miss Malice, who introduces a few acts, and then once it's clear what the audience has signed up for asks of them, "Have you said goodbye to your former selves yet? Have you come to accept that this show will change you?"
"Queer nightlife is presented in a fun, friendly atmosphere at the Branded saloon…"
Origins of the group are discussed, and then each of the featured performers is profiled. We meet the backstage and onstage personas of Divina GranSparkle, Pearl Harbor, K.James, Miss Malice, Vigor Mortis, Nyx Nocturne, and Zoe Ziegfeld. Drag queens, drag kings, burlesque dancers, in all shapes, sizes, and skin tones playfully render a thoughtful look at the human form and encourage us not to take our own gender worldview too seriously. Fluidity is the reality, and this group illustrates their experiences and their imaginative take on drag and burlesque in highly stylized entertainment. 
In their profiles, the performers talk about the often painful lives they've led, dealing with issues of body shame, family rejection, and transgender/non-binary identity that make up the shared fabric of their experience. For some, Switch N' Play is a celebration of how far they've come. For others, it is a way to face their fears.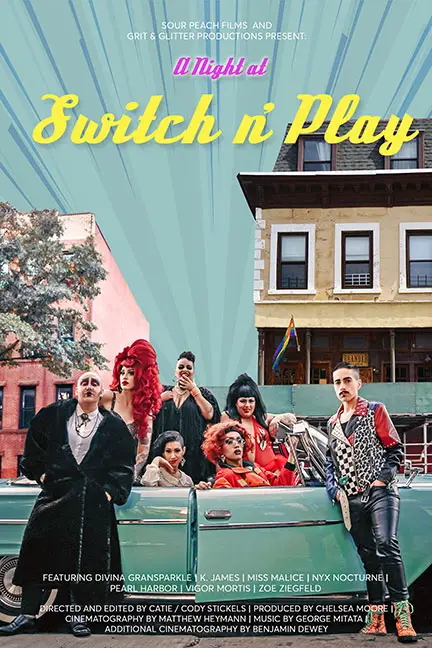 "…Have you said goodbye to your former selves yet?"