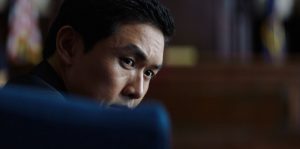 LOS ANGELES ASIAN PACIFIC FILM FESTIVAL 2021 REVIEW! There is no shortage of stories about the fractured state of policing in the United States. A Shot Through the Wall, written and directed by Aimee Long, layers the issue with additional elements of racial identity by making the officer Asian American and in a relationship with a young multiracial woman.
Mike (Kenny Leu) is a young New York City officer on patrol when he encounters a group of young black men. Mike and his partner stop to question the group, and one of them flees. The two cops pursue him to his apartment complex, where Mike accidentally discharges his weapon that pierces the outside wall, striking and killing an unsuspecting person inside. Mike is hurriedly shuffled to the police's union leader, who informs him of his temporary paid leave from the force, but who reassures him, "Don't worry, you'll be back on the streets before you know it."
Meanwhile, Mike must break the news to his family at home, including his mother, father, and sister, as well as his fiancée Candace (Ciara Renée), a multiracial woman with a father on the force. His pragmatic father (Tzi Ma) insists Mike must deal with the consequences, accident or not, while his mother (Fiona Fu) feels it is a result of his career choice, one to which she objected.
Almost immediately, the situation escalates in the city. Accident or not, it is yet another black youth ended at the hands of an officer, and everyone in Mike's universe is pulled into the incident by lawyers, the media, and a community angry and exhausted from justice denied. Candace is brought in far closer to the case than is comfortable for her. As Mike's fiancèe, she wants to remain supportive but fears becoming a token to prove Mike's inability to be racist. The fact that her father is a fellow officer who is often dragged to the cameras when similar incidents occur gives her concern about how this might play out.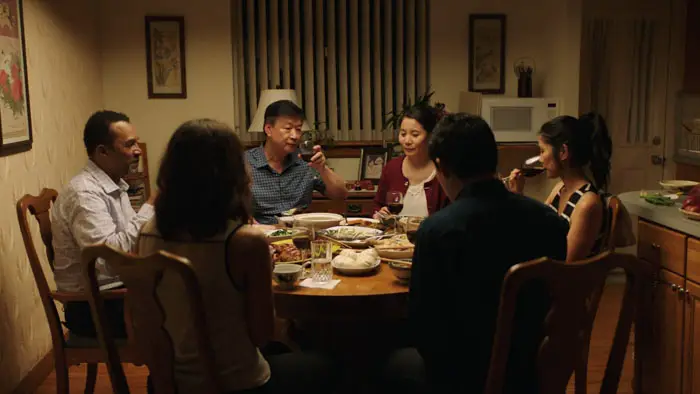 "…accidentally discharges his weapon that pierces the outside wall, striking and killing an unsuspecting person inside."
Very loosely based on the 2014 shooting of Akai Gurley, Long focuses A Shot Through the Wall on the officer's plight, which is itself a bold narrative choice in a time when so many stories of lost lives go untold after ending abruptly. It is a testament to the filmmaker and her superior cast that we remain engaged through all economical 90-minutes. And while there is not a false note in any of the performances, the movie feels as though it loaded its plate with so many potential issues only to scrape them off by the third act to focus solely on Mike's plight and missteps. The moments spent with the boy's surviving family are too few and then quickly shuffled into the background as we watch Mike being told how he must "get a hold of the narrative" in the press.
Mike repeatedly claims he's "not racist," but we never truly see him fully understand and come to terms with his actions or even how the guns-drawn approach to policing is rooted in systemic racism. Additionally, as refreshing as it is to have such a richly diverse cast, the drama never feels as though we are getting a unique perspective on the additional post-COVID burdens placed on the Asian community. This angle could have, perhaps, made up for the aforementioned void.
Technically, A Shot Through the Wall looks crisp and rich and is fueled by fine performances. And while it remains rooted in honorable intentions, it never fully capitalizes on the deeper reflection such subjects are in dire need of at this very moment.
A Shot Through the Wall screened at the 2021 Los Angeles Asian Pacific Film Festival.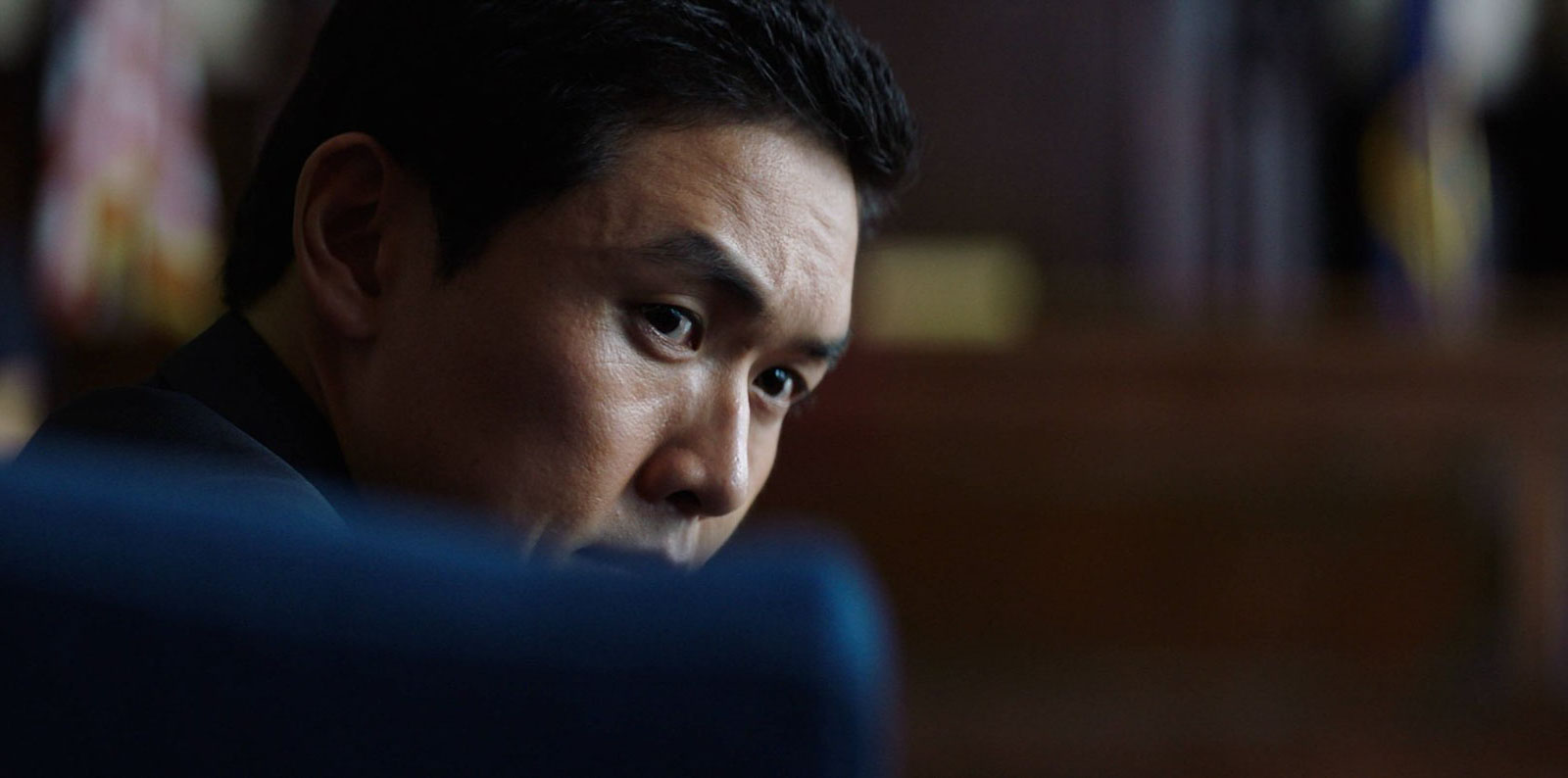 "…fueled by fine performances."