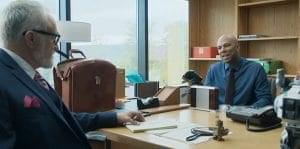 Judy Greer makes her delightful and distinctive directorial debut with the star-studded offbeat comedy, A Happening of Monumental Proportions. Individual crises converge as a diverse cast of characters experience a variety of challenges. In one life-changing day, an illicit office affair is exposed, an overbearing boss is confronted, a mysterious dead body is found, alarming bouts of existential angst are faced, meaningful truths are shared, and an adorable display of puppy love captures hearts.   
Daniel (portrayed by Common in a very uncommon and tactfully acted role) promises to attend Career Day at his daughter Patricia's (played by the lovely scene-stealing Storm Reid) school. He's nonchalant about it until his co-worker conveys just how intimidating it is to be scrutinized by these judgemental tiny humans. She describes Career Day as "a happening of monumental proportions." We soon find out just how monumental it can be.
Career Day is riddled with chaos for all involved. Daniel has a heated confrontation with his new boss (Bradley Whitford) and becomes the target of his lover's (Jennifer Garner) wrath. Flustered co-principles (Allison Janney and Rob Riggle) hide the gardener's dead body before children and parents are traumatized by the sight of a corpse on school grounds. They also learn there's an array of emergency situations that paramedics (Katie Holmes and Nat Faxon) do not deal with. An incredibly despairing music teacher (Anders Holm) dumps his emotional plight onto his young students. Inquisitive Darius (Marcus Eckert) is the new kid in school for the umpteenth time and quickly finds an empathetic friend in Patricia. That's not even all of it!
"…conveys just how intimidating it is to be scrutinized by these judgemental tiny humans…"
What I love most about this film is the adult/child paradox it so brilliantly depicts. Adults act like impulsive, self-indulgent and misguided children. Full grown men pick fights, throw tantrums, sulk about, and lash out in the most juvenile ways. Darius and Patricia are the mature ones. They see through the pettiness, appreciate what they have in common, offer a helping hand and find peaceful resolutions. In a few particularly poignant scenes, we even see how children strive to share their parents' burdens.
Both the music teacher and Darius, find themselves asking John Cho's shop teacher the same question: "What does a man have when he loses everything?" His honest, yet depressing answer is "Nothing." Brazen conversations like this one are part of the film's allure.
A Happening of Monumental Proportions pulls no punches. Gary Lundy's quirky characters dare to say and do things people normally shy away from. Grown-ups unleash their Ids, while children prove to be smarter and more insightful than they seem. Ultimately, the adults' preposterous outbursts lead to very open and moving dialogues between parents and children. A sweet, introspective, and touching story serves as the heart of this outrageous and twisted dark comedy.  
A Happening of Monumental Proportions (2018) Directed by Judy Greer. Written by Gary Lundy. Starring Allison Janney, Common, Bradley Whitford, Storm Reid, Katie Holmes, Nat Faxon, Jennifer Garner, John Cho, Anders Holm, Rob Riggle and Kumail Nanjiani.
8 out of 10 stars