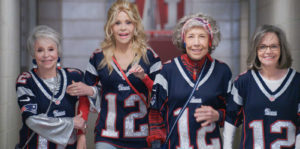 NOW IN THEATERS! 80 for Brady is a comedy starring some of our greatest female actors in Jane Fonda, Rita Moreno, Lily Tomlin, and Sally Field. Honestly, this movie should be a lot worse than it is, but in the end, charm wins out. The film was directed by Kyle Marvin, who is making his feature debut, while screenwriters Emily Halpern and Sarah Haskins have reteamed after their success with Booksmart.
80 for Brady is the story of octogenarians Trish (Fonda), Lou (Tomlin), Maura (Moreno), and Betty (Field). These four friends have been New England Patriots fans since Tom Brady's first appearance on the field. Needing to spice up their lives and chase a real adventure, Lou convinces her friends to enter a Super Bowl competition sponsored by their local radio station. As luck would have it, Lou wins the contest. The prize is an all-expense paid trip to the Super Bowl.
So after breaking Maura out of her retirement home, the girls invade Houston and go on an adventure of a lifetime. Their whirlwind odyssey involves attending the Superbowl Experience, where Betty competes in Guy Fieri's hot wing competition. There, Trish makes out with a football legend named Dan (Harry Hamlin) while Maura enters a high-stakes celebrity poker game. Throughout everything, Lou has a secret she's not telling her friends.
Then on game day, there's a ticket mishap, a run-in with stadium security, yet somehow they manage to make it to a private suite… only to see Tom Brady blow it big time. Of course, this is Super Bowl LI, the infamous match between the Patriots and the Falcons, where Tom Brady performs a fourth-quarter miracle. Any chance one of the gals gets involved in the game?
"…Lou wins the contest. The prize is an all-expense paid trip to the Super Bowl."
80 for Brady reminds me of the Love Boat. Four great Hollywood actors go on a road trip, and hilarity ensues. We've got Superbowl nostalgia and a series of gags and comedy sketches strung together by a thin plot. It is all led by a veteran cast that can act their way through the lamest of scripts. It's a testament to Fonda, Tomlin, Moreno, and Field that this is not horrible. Yet, unlike the performances of Fonda, Tomlin, Moreno, and Field, it's not Shakespeare either.
I found the story interesting but not mind-blowing in any way. The jokes were decent but not laugh-out-loud hilarious. There's a sweet moment between Tom Brady and Lou that gives the film heart. What helped the most was tying the wacky main story to the most extraordinary fourth quarter in Superbowl history.
I have to hand it to Marvin, Halpern, and Haskins. They pulled off an incredible feat of turning a silly story (inspired by actual events) into a halfway-decent tale. It would have been a travesty if our four legends came off looking foolish. Fortunately, the all-star cast came off as incredibly likable and rootable in the end. Honestly, this is one of those movies you're bound to have playing in the background while you get work done at home.
80 for Brady is one of the most mediocre films ever made. However, there's just enough heart and silliness to recommend it for nostalgic purposes. Plus, the four leads bring it. Also, like Superbowl LI, the film has an exciting fourth quarter.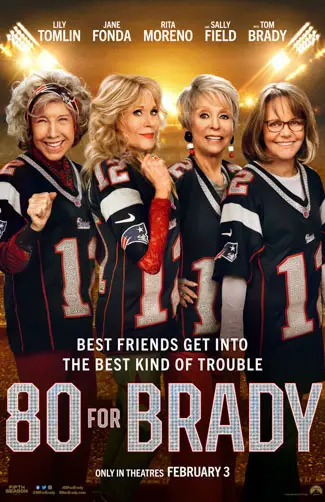 "…pulled off an incredible feat of turning a silly story into a halfway-decent tale."