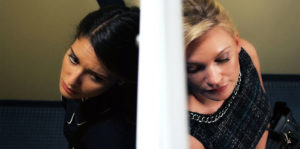 Why do we keep secrets? Shame, lack of communication, or a longing for something that we don't have in our lives are some of the main reasons. All of the above reasons are why the lead character of 7th Secret, Marissa Kelly (the talented Amanda Figueroa), doesn't tell her husband about her sexual kink. She wants to be spanked, but she's too ashamed to tell her upstanding, running for District Attorney husband Kris (Michael Patrick Lane). They also don't have the greatest communication, which as a married man myself, is understandable.
In my experience, women tend to hint or allude to things, while men need to be told the literal truth. There's a scene that I chuckled at because it illustrates this point perfectly. Marissa is getting hot and heavy with Kris and grabs his hand, wanting badly for him to smack her butt. He instead just grabs her a*s. That's the communication breakdown between men and women in a nutshell.
The story starts to get rolling when Marissa is at the park, trying to watch a spanking video on the down-low, when a man behind her catches a glimpse of her obsession. He gives her a knowing wink and nod, then goes on his way. Marissa is then approached by a drunk delinquent with nefarious intentions toward her involving his buddy when the previous winking stranger steps in and saves the day. He then smirkingly brings up the video while displaying domineering tendencies and puts his number in her phone as Slade (Lukas Hassel). Slade tells Marissa to come by Club Corporal, leaving her with a lot to ponder while kicking off a cat and mouse game between the two.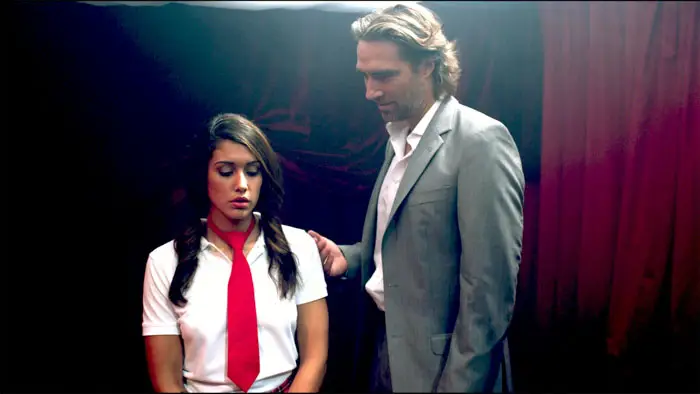 "Slade tells Marissa to come by Club Corporal…"
7th Secret is part of the now rare genre of erotic thrillers, which coincided with the rise of cable television in the 1990s. Given the subject matter, people may want to compare this to 50 Shades of Grey, except that movie was trashy romance novel entertainment geared towards women. Director Bridget Smith and writer Mike Walsh seemingly have made something more authentic, innocent (it only deals with spanking, as opposed to the entire bondage spectrum), which can be enjoyed equally by all sexes (I'm sure some men liked the cheesiness of 50 Shades of Grey, I just wasn't one of them).
Amanda Figueroa is the glue that holds it all together because she alternates between sweet and innocent (while trying to deal with her in-laws) and emotionally conflicted quite well. She gives off a smile in uncomfortable situations that you can tell is fake, but it's somehow still charming. I was also impressed by the singing skills she displays in the film (it's another interest that her character has a passion for, while her husband could care less). Figueroa has the chops to be a star someday soon with the right opportunities, and this movie is an excellent start.
Natasha Henstridge, of Species fame, is another standout as Olivia, the jealous wife of Slade. Olivia is fine with working at Club Corporal, but she draws the line at her husband giving Marissa special treatment. It's good to see Henstridge expand her acting range since her breakout role as an alien vixen into being the calculating force that she is to reckon with here. The inevitable showdown between the two women is the highlight.
Smith and Walsh both do a fantastic job because, in the wrong hands, a simple concept such as the one in 7th Secret could easily turn into bad late-night cable TV fare. They make it believable and intriguing the whole way through while ending on a high note with an invigorating finale.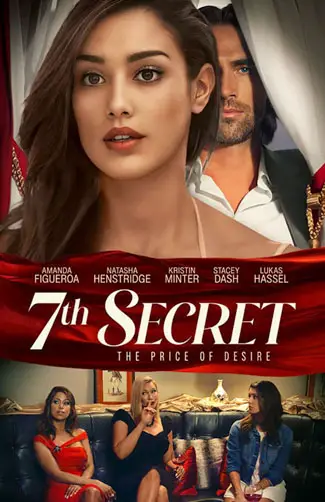 "…authentic, innocent, [and] can be enjoyed equally by all sexes."