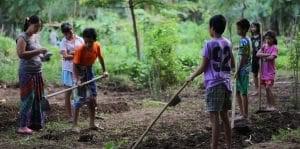 Especially now, in a time that the world needs righteous deeds to balance the escalating frenzy everywhere, it's comforting to focus our attention on honorable projects done by solicitous people who dedicate their lives to help others in need. This idea gains further emphasis when the people benefitting from these efforts are children.
Documentarian Marvin Blunte captures with a self-assertive sense of admiration, the wonderful assistance and guidance given to the impoverished children residing at Children's Village School, a 35-year institution located in a remote jungle of the Kanchanaburi province, Thailand. As an alternative to the public school system and the first democratic school in the country, it gives the opportunity for 150 underprivileged children to experience several tasks, from cooking to art, while learning the basics of life from a remarkably open-minded program. Afterward, according to their natural skills, the students can freely choose what they want to be and do in the future. As explained by the school's principal and co-founder Rajani Dhongchai aka Mother Aew, endless patience with and love for these kids who were abandoned, abused, or simply let go due to extreme poverty, are the keys for success.
"…Mother Aew, who left her regular job as a public teacher to focus on this grandiose accomplishment…"
Both former and current students don't spare words of gratitude and praise to their benefactor, who despite struggling with her own health problems, is constantly smiling and treating her foster children with the love and respect they've never had at home.
Blunte's starting point is six weeks prior to the Mother's Day. At the Children's Village, all the teachers are called 'Mom', but the one who is being honored is the big-hearted Mother Aew, who left her regular job as a public teacher to focus on this grandiose accomplishment alongside her husband Pibhop.
The school is exemplary in its educational discipline, touching a variety of fundamental subjects such as democracy, sexual education, birth-giving, human rights, freedom of speech, environmental consciousness, and many others. The kids can openly express their sexual orientation, like it happened with Pao, and participate in a sort of court emulation, a fair process to deal with misconducts and complaints. Teachers and students suggest possible punishments for the wrongdoers, which are posteriorly subjected to a vote.
"…has the ability to fill our hearts with optimism and gratitude."
Before the festive day arrives, the film crew follows two twin siblings in a sporadic visit to their real parents. Alcoholic and miserably paid for their work in a sugarcane plantation, mother and father act disparately in front of their children. While the mother gets emotional, the father, visibly depressed and ashamed, is inexpressive, almost indifferent to their presence. This scene is particularly excruciating and heartbreaking.
The director showed unity and efficiency in his moves, portraying Mother Aew and her heroic achievements as remarkable examples to be followed worldwide. 6 Weeks To Mother's Day has the ability to fill our hearts with optimism and gratitude.
6 Weeks To Mother's Day (2018) – Directed by Marvin Blunte. Starring Rajani Dhgonchai, Pibhop Dhongchani, Arunee Bunyo. 6 Weeks to Mother's Day premiered at the 2018 Miami International Film Festival.
7 out of 10