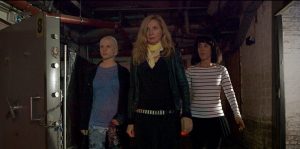 "Does it make any sense to you?" a character in writer/ director Michael Glover's 36 Husbands asks, reading a script. "We gotta talk to the writers. They're making this weirder and weirder." He may as well be referring to Glover's insane little cinematic treat, a self-described "mystical, musical, Kung Fu spy comedy." Ludicrous and hammy and proud of it, the ultra-low-budget movie certainly lives up to that description.
Glover doesn't beat around the bush, plunging us straight into the action. Gina (Roberta Bianchini) legs it across Paris to make it to her wedding. Nola (Nadine Nourney) poses for a painting before swapping a crucial key. Krista (Christa Pasch) steals a key from a statuette. These shenanigans are complemented by a bizarre subplot involving a psychedelic duet called Bright Blue Gorilla.
Before you have the chance to say "what the fu*k", Glover keeps things happenin'. They're all Kung Fu masters and spies, you see. The three lead ladies converge during training. The "essence of this training"? I'll let Nola, the new recruit, explain: "To avoid and disable, to move undetected, to be informed through intuition."
When Krista is informed, via a hallucinatory trip, that WWIII is imminent, our off-kilter trio, along with Frankie (Dominic Anglim), a spy-on-loan from MI6, embarks on a quest to prevent Armageddon. In the meantime, Gina's cross-dressing husband, Howard (Howard Corlett), is kidnapped by villainous male triplets, who torture him with Bright Blue Gorilla music.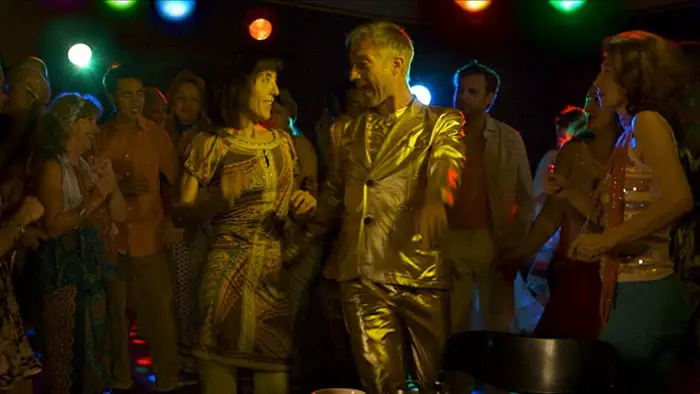 "…Krista is informed, via a hallucinatory trip, that WWIII is imminent…"
The plot is really quite irrelevant. Perhaps if one were to ingest the right amount of hallucinogenic mushrooms, they'd be able to discern a semblance of a coherent narrative. But you don't have to be obliterated to appreciate the non-sequiturs and witty lines, delivered in thick European accents ranging from German to British to (I assume) Swedish and Italian. "It's difficult to keep my eyes and head still. And sunlight burns me. Other than that, I'm amazing," Nola states. "Be sure to get it all," Frankie tells her, as she's wiping oil off her face, "dirty motor oil is highly carcinogenic." "Americans are worthless at the moment, and British spies are only good in movies," another character intones.
36 Husbands serves up the ridiculousness in spades. Krista instantly neutralizes her enemies by resorting to one nifty trick: smacking them on the back of the neck (it's foolproof). An impromptu dance conquest sees Gina bust moves with her husband, who's donning a strikingly gold suit. A giant boa constrictor randomly slithers past our heroes as they're trying to fix their car. A character uses a roll of paper towels as a shield. My favorite moment involves Nola at a sheep shearing farm, wherein she falls for the head shearer.
All the leads do an admirable job navigating through the insanity. The clear stand-out is the androgynous Dominic Anglim, a lankier/taller, European version of Jane Lynch, whose comedic timing is impeccable. But the fact that the entire cast, along with the twisted script, kept my attention through 80+ minutes of clowning around is a testament to the power of well-made tomfoolery.
If one were to look deeply enough, one would detect a subtle thread running through all the cheap-but-well-choreographed tussles and schizophrenic sequences. 36 Husbands wears its queer motifs proudly on its sleeve and could – with enough scrutiny – be regarded as a treatise on sexual politics. But who wants to scrutinize an acid trip? Irreverent, zany, tongue-in-cheek, Glover's funky little film offers a welcome respite from Hollywood gloss for the more adventurous and undiscerning film appreciator.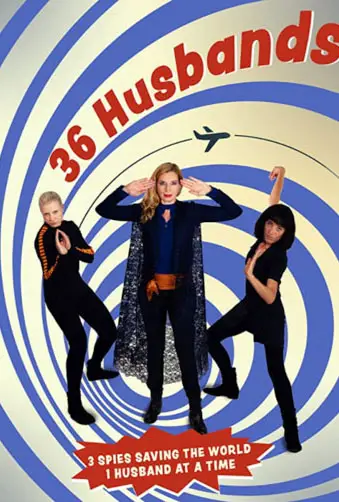 "…a testament to the power of well-made tomfoolery."