SLAMDANCE MOVIE REVIEW! Getting into the family business means you're somewhat perpetuating the family legacy. We saw this in Francis Ford Coppola's The Godfather when Michael Corleone was compelled to join his father's business and reluctantly succumb to the Mafia lifestyle. Even in the recent Bad Boys for Life, the villainess had her eyes set on honoring her husband's legacy through bloodletting and vengeance. It goes to show you that family doesn't always know best — and that is a trans-generational statement that rings true today, as much as it rang true back in the 1970s. Writer-director Lothar Herzog constructs a heedfully planned out slow-burn with 1986, a tenebrous and subdued drama about a young woman wanting to participate in her father's illegal practices. This time around, the protagonist's father didn't coerce them to take the torch, they asked for it.
For Elena (Daria Mureeva), she wants nothing more than to help her father's business. What business is that? Well, it has to do with procuring metal from the exclusion zone of Chernobyl. When we first see Elena, she's an aspiring photographer and college student living in Minsk, Belarus. Alongside schoolwork, Elena has a perfervid but problematic relationship with her boyfriend Viktor (Evgeni Sangadzhiev). Elena and Viktor always fight, occasionally cheat, yet they are somehow glued to each other. After her father is arrested, Elena implores that she be allowed to carry out loads and shipments to do her part. She's then tasked to travel through the prohibited area of Chernobyl to fulfill these illicit orders, where she instantly becomes spellbound by the engulfing tranquility and odd beauty.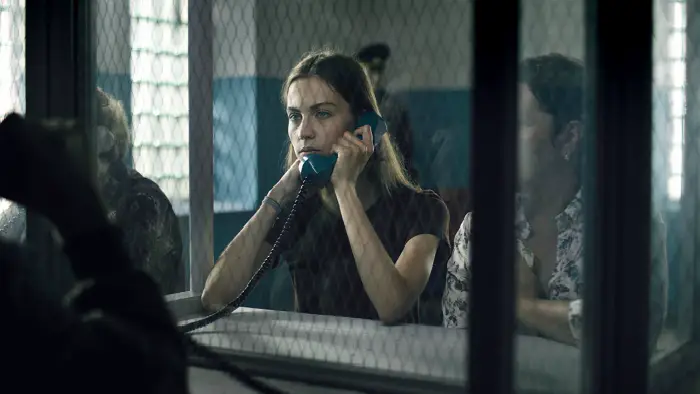 "She's then tasked to travel through the prohibited area of Chernobyl to fulfill these illicit orders…"
1986 is a quiet and unusual affair, spending the majority of the first half following Elena as she struggles at school, parties with a man who is not her boyfriend, and begs to be part of her father's felonious company. And because Elena's persistent, she's eventually allowed to execute a shipment, and it goes reasonably well. No gunshots were fired, no bodies were severed, and no double-crossings occurred. In fact, other than a few unnerving and fugacious confrontations, no violence befalls during the entirety of 1986. Lothar Herzog's execution isn't keen on exploring the habitual happenings between criminals; instead, the script and direction are meant to showcase Elena's gradual release from reality.
After Viktor returns from a trip to Sweden, he quickly falls back into Elena's arms. Woefully, it's revealed that Viktor had an affair while in Sweden. But it just so happened that Elena also slept with another person, evoking the question, why are they still together if they're both sleeping around? 1986 does effectively explore a toxic relationship with unexpected warmth and empathy. Elena and Viktor never get physically violent with each other, but they're both embroiled in a relationship built on false promises and misleading attraction. Evgeni Sangadzhiev's outstanding performance as Viktor is unconventionally soft-spoken, attentive, and modestly manipulative.