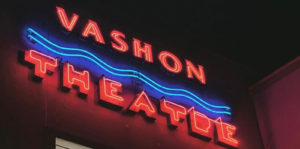 Attending a film festival in the twilight of summer may not be everyone's cup of tea. However, it works if you attend one on Vashon Island, Washington. With multiple ferry options to the island, coming and going, it's not a hassle. It's the perfect mode of transportation to introduce you to Vashon Island life. Lush and calm, Vashon Island is home to many operating farms making farm-to-table eating for almost every meal from restaurants and coffee shops to markets a highlight to any visitor, especially those attending a film festival who are used to surviving on minimal snacks, lousy coffee, and complimentary cocktail(s). In addition, the accommodating array of guest houses, barns, cabins, cottages, and bed and breakfast inns to stay at also adds to the charm, especially those with their own cider (Fruits Des Vignes Farm). However, having a vehicle on the island is handy for getting around and visiting Vashon's shores and seeing all its flora and fauna. As someone said, most roads end at the water.
Suggesting you push aside the usual accommodations and film festival structure, the Vashon Island Film Festival (VIFF), an initiative of the nonprofit Vashon Film Institute (VFI), is a festival to keep an eye on for the future because VIFF has its very own authentic vibe. VIFF is the brainchild of VFI founder and island resident Mark Mathias Sayre, who never once lacked a smile during the entire festival, and only want to know how to make next year's fest even better. Sayre's film industry experience and contacts brought a surprising number of filmmakers, cast, and crew to the event, who supported his efforts whole-heartedly and repeatedly asked to return for year two. Their appearance and on-stage Q&As made the festival even more exciting and fulfilling, especially for the locals who attended and supported opening their homes and businesses for the festival, including Sayre's mom, Carol, who single-handedly created a delicious gourmet opening party feast like no other with the rest of Mark's family including his father Jeff, sister Meg, brother-in-law Fede, and brother Daniel, who all helped at every corner of the festival. It not only takes a village but families, friends, and others for a festival to start on such high notes as it did for VIFF.
All films were screened at the historic local cinema, the Vashon Theatre, which offered an expansive outdoor space with craft beer and local wine to meet and chat about the film and enjoy the positive ionic island breeze. This theater venue is about to undergo a major remodeling and event space build-out, which will play a significant role in VIFF's future, offering an even more dynamic festival experience.
On Friday, August 12, the very first VIFF screenings took place from 10 a.m. to 11 p.m., including the first block of two shorts blocks to kick off the day, followed by the documentary Buffalo Soldiers: Fighting on Two Fronts. Next, the dramatic comedy Juniper, followed by the drama 1-800-HOT-NITE, which each had several cast and crew in attendance.
"The pandemic inspired the script," says Nick Richey, director, and screenwriter for 1-800-HOT-NITE. "We started this at the height of COVID, and it was all through Zoom. We would do Zoom sessions to discuss the story with the actors."
 The evening films ended with the over-the-top horror feature Crabs! and an opening night gala brought all in attendance together thanks to Sayre's mom's catering and locals who poured bubbly rosé and ensured everyone was having a great time.