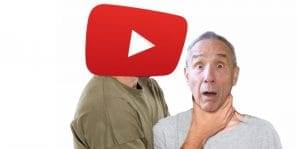 YouTube kicks out the iconic 47-year-old indie film studio, Troma Entertainment, due to the breach of the platform's "Community Standards" policy. Its 750,000 subscribers can no longer access to Troma's YouTube channel or content.  Troma points out that YouTube continues to allow Netflix to promote the controversial Cuties (over perceived pedophilia) and CNN publishes clips of real-life blood and violence while kicking off Troma for cartoonish, fictional violence including its trademark fake "head crushings" made out of melons and fake blood.
When asked why YouTube is going after Troma, Troma co-founder Lloyd Kaufman says, "YouTube's Algorithm is set to go after independent movies—competition for the mainstream."
"YouTube's Algorithm is set to go after independent movies…"
Troma's credentials are impeccable. Filmmakers including James Gunn, Trey Parker & Matt Stone, Samuel L. Jackson, Quentin Tarantino, Eli Roth, and Peter Jackson credit Troma films for inspiring their own work. So why does YouTube rejects its content?
Troma and Lloyd have been honored by the Museum of Modern Art, Kennedy Center, British Film Institute, Museum of the Moving Image, and many more? Why does YouTube ignore Troma's place in cinematic history?
Troma needs your support now more than ever. Visit troma.com for access to its historic classics, including The Toxic Avenger series and Class of Nuke'em High. Also, check out the world premiere of Troma's latest feature #Shakespeare's Sh*tstorm at Fantasia Film Festival on August 29th.