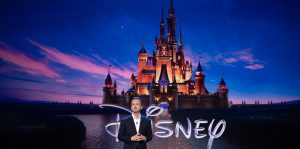 One of the downsides of the Walt Disney Studios presentation at the D23 Expo is they take all your electronics away from you. While your mind is being blown, news of your experience goes out into the web and by after the two-hour session, the surprises are spoiled. Here are the top takeaways about Disney films to be experienced live in the same room with 6,000 other screaming Disney fans.
1. Brief Celebrity Appearances – The Eternals & Black Panther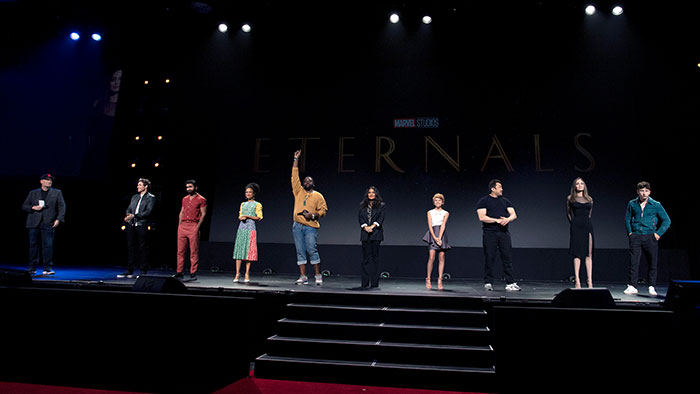 Stepping onto the D23 Stage is the entire cast of The Eternals, including Richard Madden (Ikaris), Kumail Nanjiani (Kingo), Lauren Ridloff (Makkari), Brian Tyree Henry (Phastos), Salma Hayek (Ajak), Lia McHugh (Sprite), Don Lee (Gilgamesh), and Angelina Jolie (Thena). Joining the cast are Dane Whitman and Barry Keoghan. As soon as it was announced that Gemma Chan and Kit Harrington have signed on, the cast was immediately escorted off stage. Not a single word was spoken. I guess you just need to show up for five minutes and then head across the street to Disneyland.
"Not a single word was spoken…"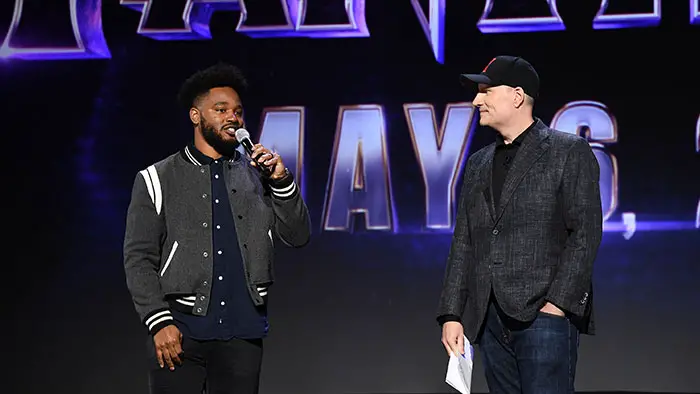 Ryan Coogler appears to promote Black Panther II (not the actual title). He showed up to announce the second Black Panther film will premiere on May 6, 2022.
I will say half of the cast of Star Wars: Rise of Skywalker got to say something. Nothing substantive though.
2. Video Appearances – Black Widow
If you want to say anything significant to the crowd, the strategy is to not show up and make a video greeting. Which is exactly what the cast of Black Widow did with a silly video featuring Scarlett Johansson (Natasha Romanoff), David Harbour (The Red Guardian), and Florence Pugh (Yelena Romanoff). The coolest thing about the Black Widow trailer is that there are no powered-heroes in this film and the Taskmaster looks frickin' awesome.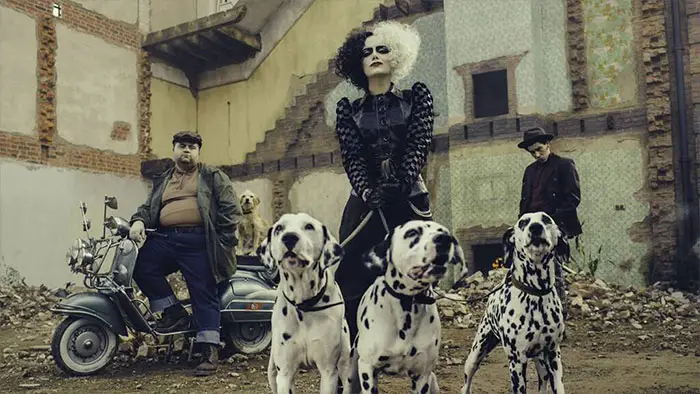 The same also holds true for Emma Stone, who will play the 70's London punk rocker Cruella DeVille in Disney's Cruella. Production has just started and we get a quick greeting from Stone and the first picture as Cruella, which is already rolling eyes from Disney purists.
"…the 70's London punk rocker Cruella…"
3. Prepared Appearances – Jungle Cruise & Frozen 2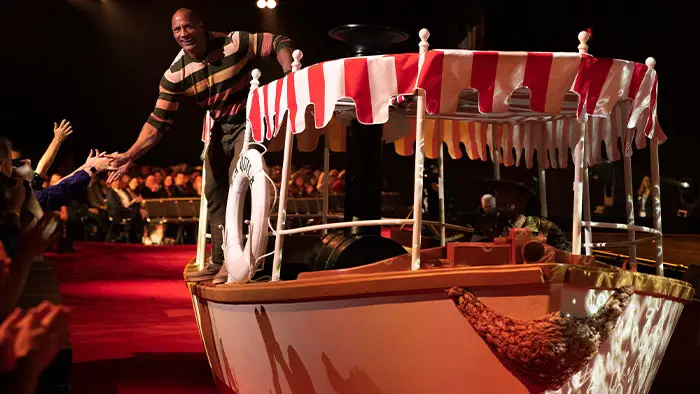 Another way to maximize your stage time is to have a bit prepared and spend a little money. No one did it better than Dwayne "The Rock" Johnson and Emily Blunt for Jungle Cruise. Step one—Make an entrance. The Rock arrives on a Jungle Cruise boat and Blunt arrives in a classic car. Step two—Pander to the crowd. Tell us your film is like Indiana Jones, Romancing the Stone, and Indiana Jones. Then acknowledge this is a film about one of the original rides at Disneyland that was there on opening day. Step three—Pull off some schtick. Rock and Blunt then present his/her trailers disputing who is the true star of the movie.
The gang from Frozen 2 wasn't as elaborate at Jungle Cruise, but they made an impact when Josh Gad, Kristen Bell, Idina Menzel, and Jonathan Groff step on stage and sing. Frozen fans were not disappointed at all.
4. Do Something Weird – Onward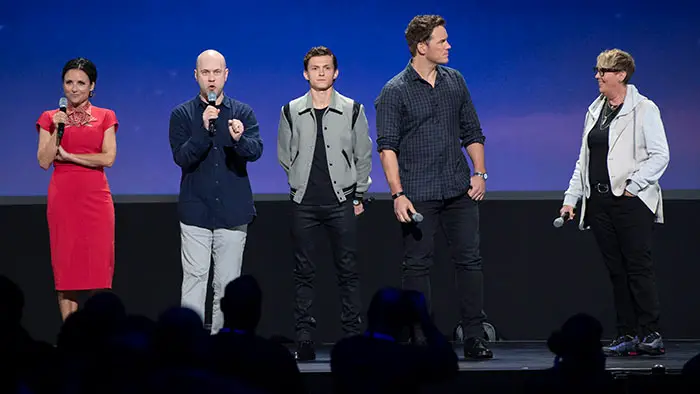 By weird, I'm not talking "I Love You 3000," which I suppose is becoming a thing! Pixar wins with weird category with Onward. The magic of elves and unicorns are brought to the present with brothers Ian (Tom Holland) and Barley (Chris Pratt) set out on a quest to spend a day with their deceased father, thanks to a magical spell and staff presented to them by their mother, Laura (Julia Louis-Dreyfus in her second Pixar film). The spell allows the boys to conjure their dead father, so they can spend a day with him. The spell though only half works and by half works, I mean, only his lower half (waist down) is conjured and they must spend the rest of the film hoping to summon the top half of their dad. You can never say Pixar isn't original.
"…'I Love You 3000′ which I suppose is becoming a thing!"
5. Do Something Diverse – Mulan, Raya and the Last Dragon, Soul.
No one would ever accuse Disney of virtue signaling…OK, I would never accuse Disney of virtue signaling. But feminism and diversity is the keyword in entertainment for the next few decades, I suppose. Which brings us to live-action Mulan. All Asian cast…'nuff said here.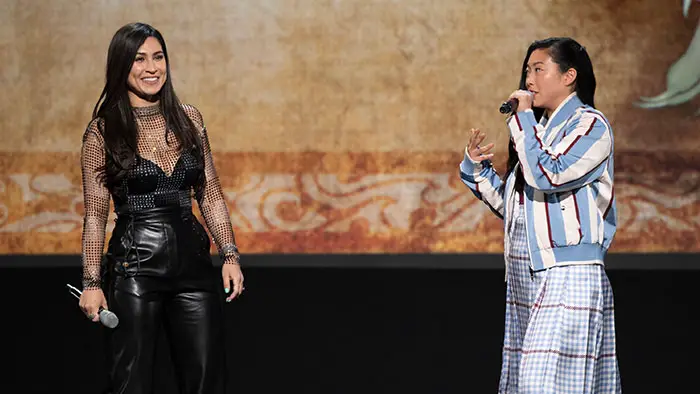 More interesting, though is the other Asian project in Adele Lim's (Crazy Rich Asians, writer) Raya and the Last Dragon. Taking us into South East Asia and mixing in Hong Kong action, Lim's story is about Raya's (Cassie Steele) search for the Last Dragon. This dragon is Sisu played by Awkwafina, while the film explores themes of community and hope.
Back to Pixar is Soul. The title not only refers to our "soul," but also to "jazz." Like Pixar's Inside Out, they once again attempt to anthropomorphize the heady concept of one's soul, or specifically finding purpose and meaning, but also save jazz at the same time. Soul features an all African-American cast including Jamie Fox, Ahmir Questlove Thompson, Phylicia Rashad, Daveed Diggs, and then there's also Tina Fey.
"…features an all African-American cast…and Tina Fey."
I've been attending the D23 Expo since its inception in 2009. The first year boasted smaller crowds. I met and spoke with Fozzie, Gonzo, and Pepe the Prawn. The first Walt Disney Studios panel hosted The Muppets, Miley Cyrus (still Hannah Montana), Johnny Depp in full Jack Sparrow gear, and Nick Cage promoting The Sorcerer's Apprentice and pledging to be in National Treasure 3. We, Disney Fans, come every year for amazing once in a lifetime experiences. Even if that means our favorite actor stands on stage for two minutes and says nothing. I was there. I was in the same room as The Rock and Barry Keoghan.